France is the best country in the world for luxury fashion. You're probably not surprised to learn that the best luxury French brands are some of the most sought after in the world. France has a long and storied history of luxury fashion and accessories production. The French savoir-faire has often been passed down through generations of French families dating back to the 19th century!
Luxury French Brands
Today I want to take a look at some of the top luxury French grounds to know if you love French girl style. While I don't own all of these brands myself, I hope one day I'll be able to afford a key piece from each of them!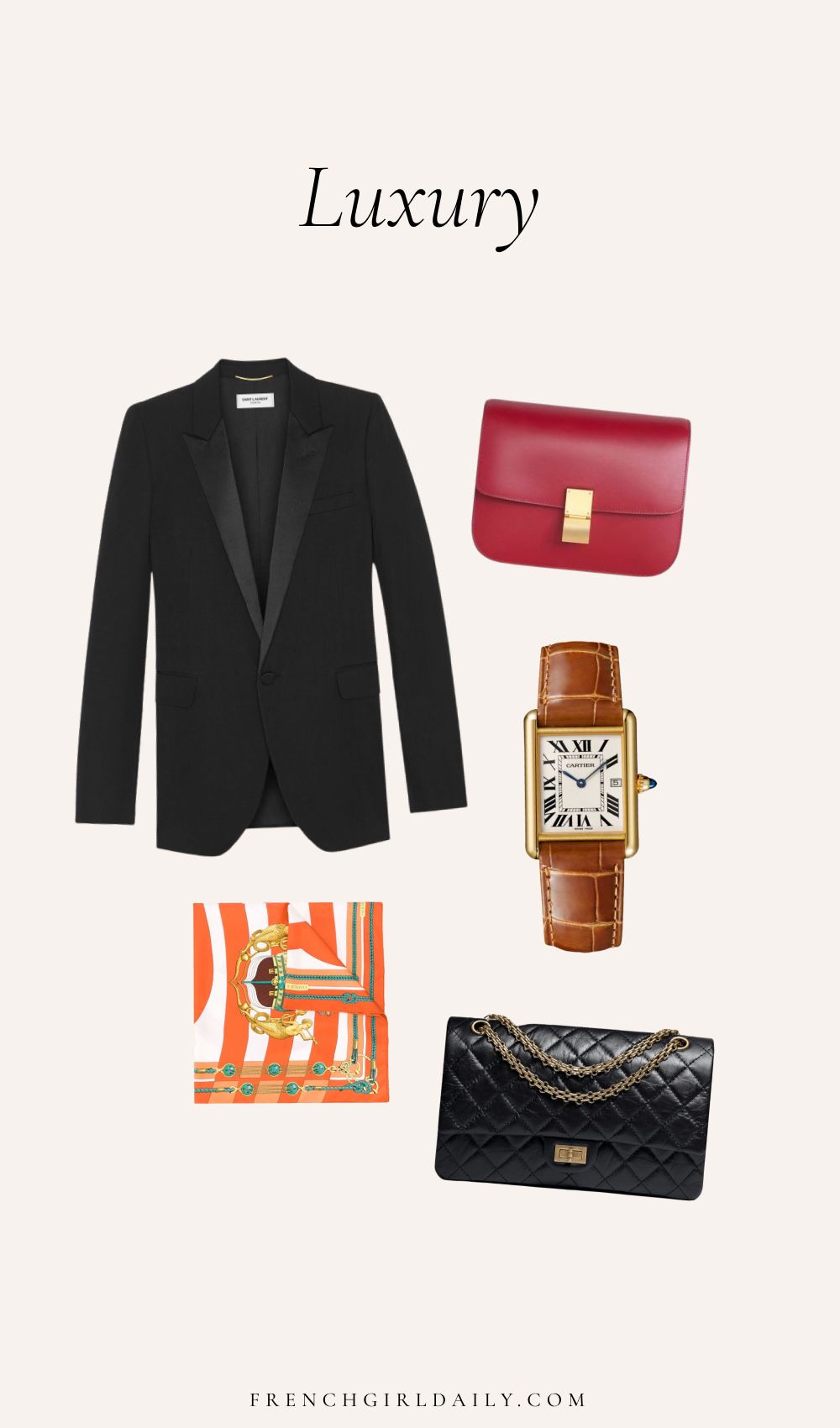 Chanel
Haute couture luxury fashion house Chanel is the most sought-after French designer in the world. It was founded in 1910 by a woman named Gabrielle 'Coco' Chanel, at a time when it was it was often men who designed the most desirable clothing for women. Chanel hit the scene with fresh designs that looked nothing like the ultra-feminine tight-waisted dresses that women of her day wore. With straight lines on her iconic Tweed suit, Chanel's designs were revolutionary.
What I would buy: the 2.55 bag in black
Dior
Christian Dior was a couturier who designed the glamorous "New Look" in 1947. His signature Bar jacket, a short buttoned coat that cinched at the waist before flowing outwards by the hip, created an ultra-feminine look. Dior's fresh designs were exactly what women of the post-war period needed: a return to joy and a celebration of elegance.
What I would buy: the bar jacket
Givenchy
Founded by Hubert de Givenchy in 1952, the Givenchy brand is most often noted for its ongoing collaboration with actress Audrey Hepburn. Producing iconic pieces like the long black dress worn by Hepburn in Breakfast at Tiffany's (1961), Givenchy introduced the idea of simplicity as elegance during a time when excess and intricacy were synonymous with luxury. Sleek lines and solid colors were seen as boring but Givenchy made them timeless and impossibly chic.
What I would buy: a Givenchy little black dress of course
Yves Saint Laurent
A young Yves Saint Laurent founded his fashion label at the age of 25 in 1961. Saint Laurent was one of the first successful French designers to thrive with ready-to-wear clothing from the beginning. Inspired by non-European culture, he brought an international vision to the French fashion scene.
What I would buy: a classic black Le Smoking jacket
Lanvin
As the oldest of the luxury French brands still in operation, Lanvin paved the way for female fashion designers to succeed in Europe. Jeanne Lanvin created her design house in 1889 and quickly became known for her fresh take on 19th-century fashion. She adapted the long billowing dresses women were known to wear into shorter versions with a dropped waist and V-neck front. These turn-of-the-century dress styles became known as Robes de Style. Over the decades, she customized the design with embellishments and unique trimmings.
What I would buy: a dress in Jeanne Lanvin's favorite color, quattrocento blue
Chloé
Emblematic of bohemian French 60s and 70s style, Chloé, founded by Gaby Aghion, was one of the first ready-to-wear luxury French brands. Her first fashion show created for the spring/summer season of 1958 took place at the Café de Flore in Saint-Germain-des-Prés on the left bank of Paris. Chloé became known for contemporary romantic styles of dressing that represented the modern Parisian woman.
What I would buy: an iconic silk bow-tie blouse
Hermès
Hermès is a luxury goods brand founded in 1837. Thierry Hermès originally sold harnesses and bridles to European nobles. It wasn't until the 1920s when grandson Émile-Maurice Hermès introduced accessories and clothing to the brand after his wife complained she couldn't find a leather handbag that suited her. In 1935, the Sac à Dépêches was introduced and later renamed the Kelly bag after American actress Grace Kelly. The first square carrés scarves were created in 1937. These pieces along with the Birkin bag have become emblematic of this luxurious French brand.
What I would buy: an orange silk carré scarf
Celine
Celine was created in 1945 by Céline Vipiana, who surprisingly began as a made-to-measure children's shoemaker. It was not until 1960 that the brand took a different direction and decided to focus on ready-to-wear fashion. In 2008, British fashion designer Phoebe Philo took the reigns of design at Celine and opted for a minimalist approach to the brand's image. The end of her tenure in 2018 was mourned by thousands of adoring Celine fans.
What I would buy: the medium classic box bag
Louis Vuitton
The French luxury goods brand Louis Vuitton was founded in 1854 by a French man of the same name. Vuitton originally created trunks and other travel goods for wealthy clients in Europe and America. The famous signature LV monogram canvas was created in 1896 to prevent the rampant counterfeiting that the brand faced. In 1930, the iconic Speedy bag was created, inspired by the rapid transit advancements in society. Audrey Hepburn became a fan and used it often when she traveled. Vuitton's luxury accessories took off in the circles of the European elite, and it wasn't until the 90s that Louis Vuitton began producing luxury ready-to-wear. In 1997, the brand named Marc Jacobs as Artistic Director, and the next year, he designed the first prêt-à-porter line of Vuitton clothing for both women and men.
What I would buy: the Capucines handbag
Cartier
Cartier is a luxury French jewelry and watches brand founded by Louis-François Cartier in 1847. Since then, the brand has created jewels and tiaras for European royalty and elite clientele. One of the most timeless coveted Cartier pieces is the tank watch, designed by Louis Cartier in 1917 when he was inspired by the rigid lines of the battlefield tanks of World War I. Its leather wrist strap and Roman numerals attracted the likes of Jackie Kennedy to wear it.
What I would buy: the tank solo watch
What are your favorite luxury French brands?