Every time I do an FAQ on Instagram I always get the question: where can I find affordable French style if I'm on a budget?
This question is definitely hard to respond to because as we all know French girl style is associated with luxury which basically means high prices. Even though many designer French brands are out of reach for most people, there are definitely plenty of affordable French brands you can shop for cheap.
Personally, I am a fan of the "buy less, shop well" mentality and I prefer to spend a little bit more money on fewer, higher quality items than go the cheap route. That being said, I know that not everyone has the budget to do that (especially when you're young) so I will share with you some tips on finding affordable French style, cheap French brands and saving money while shopping!
Generally speaking, I always think it's hard to find a good mid-range brand. Most American and European Brands offer a really great design paired with a high price or terrible design at a low price. Right now, Reformation is one of the only brands offering mid-range prices and good design that you actually want to wear (and even they have gotten expensive).
Affordable French Style Tips
Let's talk about a few ways that you can save money when shopping for French style clothing.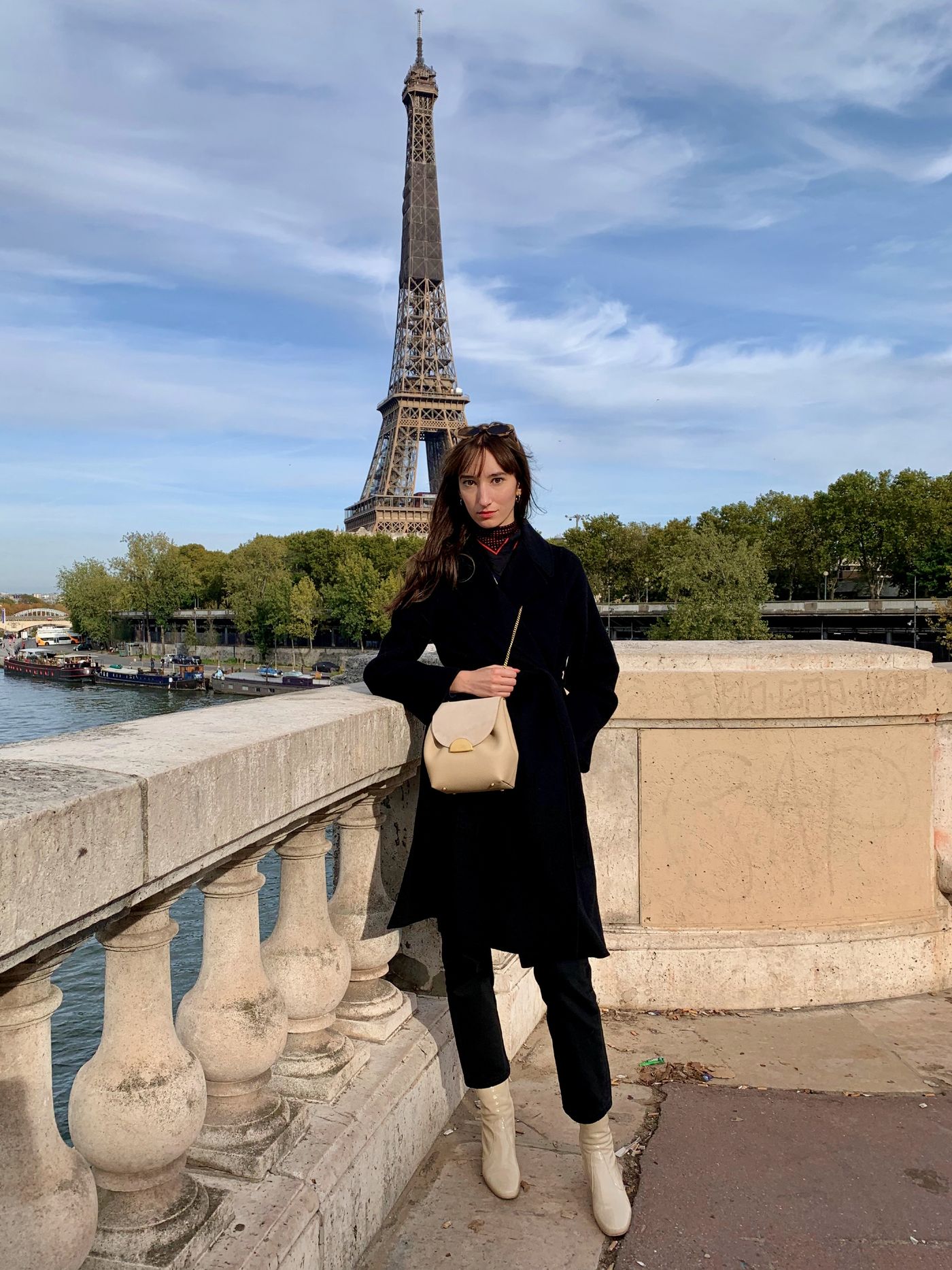 Join the Mailing List
My first tip might be obvious to some, but I recommend that you join the mailing list of all brands you want to shop to get 10% off online purchases. Most brands offer a discount for new customers and it generally ranges from 10 to 15%. Scroll down the homepage and you can generally find the email opt-in box somewhere! Other times it pops up right after visiting the site.
Keep a List
I always have a running list of items that I'm looking to buy. I check retailers websites about once a week to see if those items are on sale or if there's any coupon codes available. I have a folder of bookmarks on my web browser with links to all of the items at different retailers. I've also used websites like Lyst to keep track of these items. Lyst emails you whenever something goes on sale. It's a good way to get a discount on something you really want!
Find French Style Designs in the US
You can find many French style clothing items in the USA. France is incredibly influential in terms of design and trends. Many American brands imitate French designs around a year after they are produced. You can find so many French influenced clothing, shoe and handbag designs if you look closely!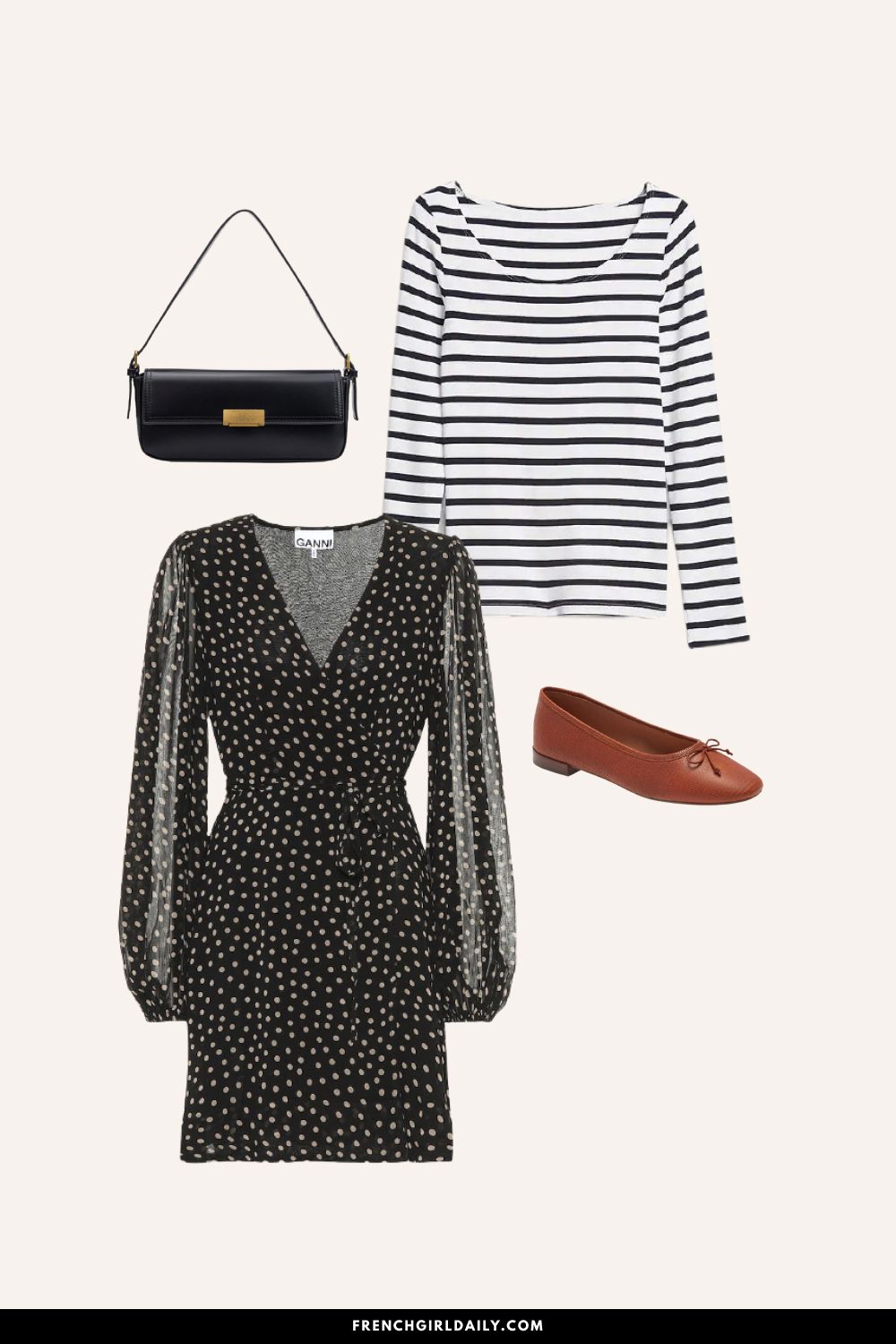 Shop Online Outlets
I have found amazing deals on mid-level designers by looking on online outlet shops. What are these? Well, online outlet shops are basically websites dedicated to selling lasts season's clothing at heavy discounts. I got my Stand Studio teddy coat from The Outnet for example, at a price I probably would have paid at a low-cost retailer like The Gap, for example. My favorite online outlets include:
Shop Vintage
French girls love to shop vintage and the good thing is you can find some amazing vintage pieces for very low prices. I found beautiful vintage clothing for as little as seven or €10 depending on the item. Check out these online French vintage shops to begin:
Shop from Vinted
If you don't live in France, then try looking for vintage clothing or contemporary clothing on Vinted. Vinted is a marketplace for anyone to sell clothing, shoes, or accessories that they own online. I have lots of friends who have been able to snag designer pieces here for less than half of what they would cost at retail. Others prefer to shop the vast selection of vintage clothing. Either way you can surely find a great discount on affordable French style clothing on Vinted!
Shop Affordable French Clothing Brands
It may come as a surprise, but there are a few affordable French clothing brands that you can shop from. Petit Bateau is one of my favorites. You can find great Breton-style striped shirts here as well as many durable French wardrobe basics.
André is my go-to for affordable French shoes. Every time I wear my brown leather flats from André in a story on Instagram, I get tons of messages on Instagram asking me where they're from!
The other popular French fast fashion clothing brands include Camaieu, Pimkie, Kookai, Monoprix, and La Redoute. Kouka is a brand I recently discovered which sells bohemian French clothing at an affordable price.
Visit the 'Stock' Shops in Paris
You might have to wait until the borders reopen, but the next time you come to Paris please take a minute to research the famous Parisian 'stock' shops. The stock shops of Paris are one of the unspoken secrets of French shopping in Paris. A stock shop is basically a store which sells last season's collection at a heavily discounted price. Many of the national French retailers have a stock shop or an outlet. I found really good deals at these shops and I get as much as 50 or 60% off the retail price. They're not dirt cheap but the discount is pretty great!
Rue de Sevigné in the Marais is a hotbed for these stores, but they're dotted around Paris in different places. Here are a few recommendations:
A.P.C. Surplus: 20 Rue André del Sarte, 75018 Paris
Sandro Stock: 26 Rue de Sévigné, 75004 Paris
Claudie Pierlot Stock: 26 Rue de Sévigné, 75004 Paris
Maje Stock: 4 Rue de Marseille, 75010 Paris and 9 Rue du Cherche-Midi, 75006 Paris
Mango Outlet: Quai Châtelier, 93200 L'Île-Saint-Denis
Shop Australia
Lastly, this might sound crazy but I found amazing, cheap French-style clothing from Australian fashion brands! There's so much good design coming out of Australia right now and there are multiple brands that really encompass that effortless, summertime, south of France look. What's amazing is that the Australian dollar is much weaker than the American dollar, the euro, and the pound, so you're getting a sort-of discount on whatever price you see on the brand's website. I've done the math and even with shipping at around $25 AUD you're still saving money. So Australia is a good place to look if you want feminine, French dress designs.
I'll be sure to update this article if I think of any more ways to find affordable French style clothing. In the meantime, I hope that these tips were helpful!