Parisian style is harder to define than you might think.
Sure, we all grew up with that idea of the "Parisian" in our heads – the red-lipped, ultra-thin beauty who effortlessly threw together the perfect outfit from a closet full of designer clothing.
But does the Chanel tweed jacket-wearing Parisian really exist? 
I've lived in Paris for several years and I'm going to share what I know about the Parisian style so you can see for yourself.
Find Your Parisian Style
Often, the cliché Parisian style is what first comes to mind: a polka-dot dress, a beret, patent leather shoes, a silk scarf, etc.
However, I live in Paris and the truth is there are so many different Parisian styles to choose from nowadays.
Parisians have a diverse sense of style today, even if there are some classics that never went out of fashion.
Here are the most popular styles of Parisian dressing.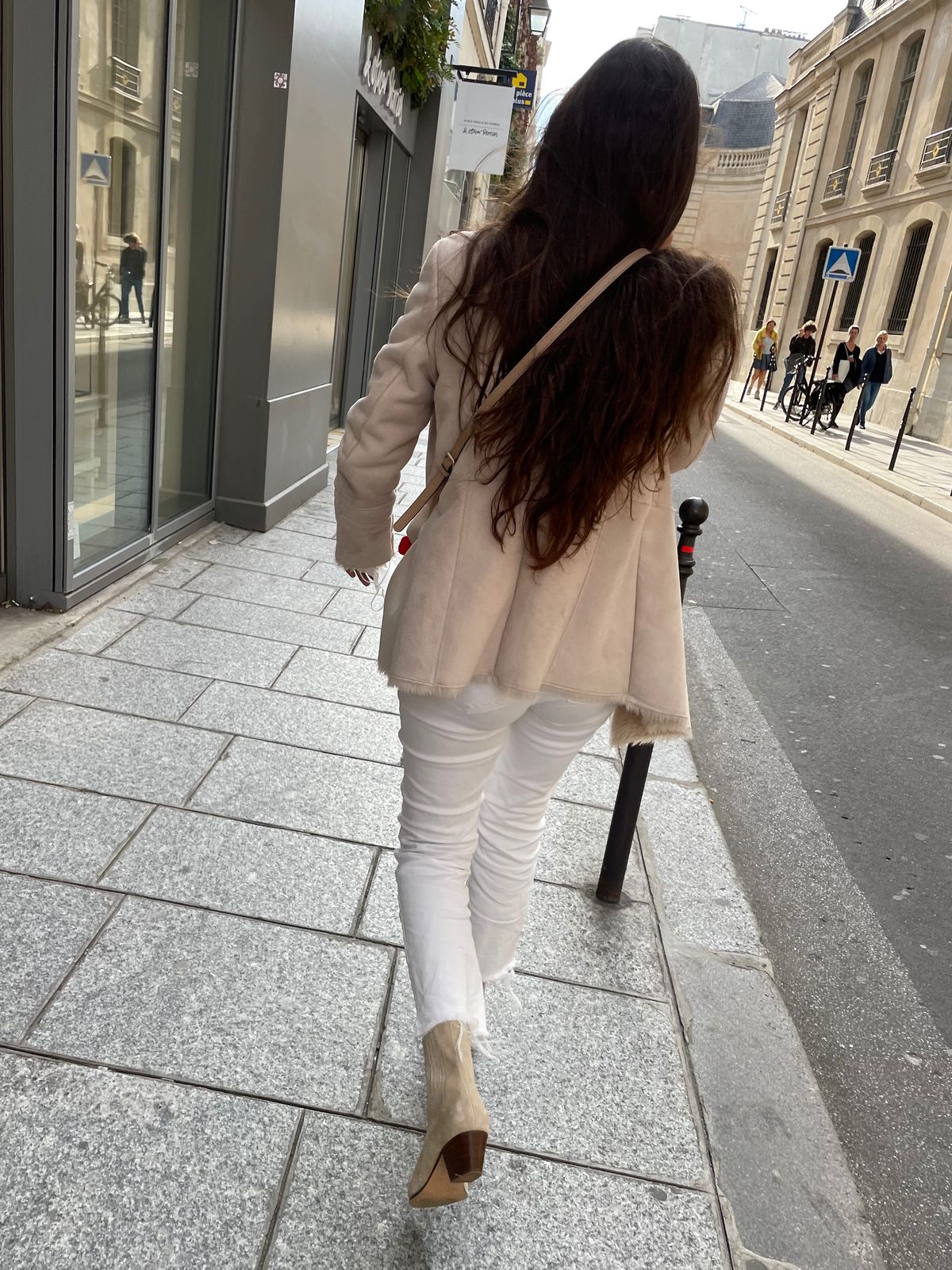 Classic Parisian Style
The classic Parisian style is exactly as it sounds – rooted in the old-world Parisian style we all know and love. Does it exist? Yes! Even though it tends to be older women who dress in the 'classic' style, trust me I see it on the streets all the time!
The classic Parisian style consists of slim black pants, a silk polka top, simple wool coats, patent leather heels, an Hermès or Céline handbag, and maybe a beautiful silk scarf.
Modern Parisian Style
The modern Parisian style is a step up from the classic style if you ask me. It's full of international brands, and some contemporary trends you might see in fashionable cities like London or New York. It's très chic, but without trying too hard.
Parisian Athleisure Style
The casual Parisian style is having its moment! Lots of young and hip Parisians are wearing converse, Veja sneakers, hoodies, and more athleisure clothing.
Vintage Parisian Style
Parisians still adore their vintage clothing and you can often spot this type of Parisian style in the eastern part of Paris like in the neighborhoods of Le Marais, Belleville, and Bastille.
Parisian Style Rules
There are a few style rules you must keep in mind to dress like a Parisian.
Start with the Basics
Parisians build up a closet full of wardrobe basics first and foremost. They use these basics to build classic outfits that aren't too attention-grabbing. Each piece is the right size and form to flatter their body type. Parisians typically prefer to buy high-quality clothing made of natural fabrics.
Shop Timeless Pieces
Parisians mostly ignore fashion trends and opt for timeless clothing instead. They want to acquire pieces that are durable and can be passed down to their children. They tend to go for timeless designs that won't go out of style anytime soon.
Neutral Tones
The Parisian style of dressing is often based on neutral tones like beige, white, brown, and black. When curating your Parisian wardrobe, stick to neutral colors like cream, beige, ivory, and brown as you build your closet. Parisians wear these colors most often and add a touch of color when they feel like it.
Classic Prints
Printed clothing is kept to a minimum. Floral prints, striped clothing, gingham print, and houndstooth prints are all popular Parisian prints for clothing. The French marinière shirt is a classic striped t-shirt or sweater that many Parisians own.
Avoid Logos
Parisians avoid wearing big logos on their clothing or handbags at all costs. They don't understand the Asian and American fascination with flashy logos on handbags or shoes. I think this stems from the French people's natural aversion to showing off one's wealth in French culture.
Even though many French luxury brands plaster their logos over the items they make, trust me, those products are only purchased by foreigners – not real Parisians!
Wear a Size Up
Parisians don't wear skin-tight clothing like Americans. Parisian women prefer to size up in most of their clothing to have a relaxed fit that feels more loose and casual. You'll never see a Parisian woman wearing a short skin-tight dress. instead, the oversized look is much preferred.
Keep Outfits Simple
Parisians keep their outfits very simple. They don't add several flashy pieces to one look. Instead, they wear only one statement piece per outfit. It could be a brightly colored scarf or a printed skirt. The rest of the outfit is composed of basic wardrobe items or neutral-colored clothing.
Casual Chic
Parisians love the casual-chic way of dressing. Décontracté is the French word for casual and some of the first Parisians I met in Paris loved to describe their style of dress with this word.
Invest When You Can
At the same time, Parisians love investing in designer pieces when they can afford to. Paris is home to the world's best fashion designers so Parisians love to get their hands on the chicest designer fashions when something timeless comes out. The Parisian way of dressing is definitely more sophisticated than the typical French girl style so don't be scared to spend a bit more money on select pieces of your wardrobe.
Master the Undone Look
Parisians never go outside looking too perfect and put together. Think the opposite of Emily from Emily in Paris or Blair from Gossip Girl. Don't wear any outfits that are too matchy-matchy or color-coordinated. Instead, Parisians like to look a bit disheveled. Good Parisian style might be more similar to Camille and Serena in the aforementioned TV series.
Wear Vintage
Parisians absolutely adore vintage style. Whether they got a piece of clothing passed down from their grandmother or they thrifted it at the local vintage shop, Parisians often wear vintage mixed with contemporary pieces. It's just part of the old-school charm so many Parisian women exude!
Know Your Body Type
Parisian women know that not every designer piece – no matter how high-end – will work on their body type. While certain pieces of clothing are universally flattering, like the wrap dress, for example, not every design will work for every body. Parisians are experts at finding the styles that flatter their body type and repeating what works.
Discover Parisian Brands
Shopping local is very Parisian! Parisian consumers have become very interested in shopping made in France fashion brands to support the local economy and French artisans.
They are also looking for more sustainable clothing to add to their wardrobes to ensure their fashion addiction isn't hurting the planet!
Accessorize
Parisians love to use accessories to complement their outfits, but again, they use them sparingly! A French leather belt to highlight the waist and give the body a nice shape is acceptable. Brightly colored bangles are not. Parisian women love wearing silk scarves and they're the perfect accessory to a simple outfit of a white button-up shirt and straight-leg jeans.
Simple Jewelry
Parisians keep their jewelry quite simple in design. The basic Parisian jewelry essentials include:
A gold pendant necklace
Simple gold rings
Gold hoop earrings
Diamond stud earrings
Parisian Wardrobe Essentials
If you want to build a Parisian wardrobe, then you'll need these Parisian style essentials.
Parisian Clothing
White, black, and navy blue cotton t-shirts
A Breton striped shirt or marinière
A white and blue cotton button-up shirt
A silk pussy-bow shirt
Sweaters in cashmere or wool
Cardigans
Straight-leg Jeans
Corduroy pants
Black wool pants
A black jacket
A beige trench coat
A plaid blazer
Parisian Shoes
As for your shoes, Parisians typically own the following types of footwear.
Ballet flats – Repetto makes beautiful Parisian flats.
Slingbacks – Chanel beige cap-toed slingbacks are in style in Paris.
Leather ankle boots – Jonak is great for affordable French shoes.
Knee-high boots – Bobbies makes lovely patent leather knee-high boots.
Evening shoes – Roger Vivier is the Parisian evening pumps brand of choice.
Parisian Handbags
As for handbags, Parisians typically own the following bags at a minimum.
Fashion Brands Parisians Love
Although there are dozens of amazing French clothing brands, there are a few brands that Parisians love in particular.
That Je ne sais quoi
The cliché phrase is true – Parisian women have a je ne sais quoi quality about them. But what is it exactly?
Well, I believe that the Parisian allure comes from mystery. You'll never see a Parisian woman who is too exposed – literally or figuratively. In dress, she's never wearing a super low-cut skimpy top, and in conversation, she never reveals too much about herself too soon.
Her makeup is understated. A typical Parisian makeup look might include concealer, a lightweight tinted moisturizer, mascara, and red lipstick. If her makeup smudges during the day, it's no big deal.
Parisian hair is never too brushed and coiffed. Instead, Parisians leave their hair as it naturally is. It might be tossed up into a messy bun, or hung loosely down below their shoulders. If your hair is flat, try sleeping with your wet hair pulled up overnight to give it some volume for the next day.
Seasonal Parisian Style
Parisian style is about dressing appropriately for each season. Here are my style guides for each season in Paris:
Parisian Style Books
Study the masters. These Parisian style books will give you style tips straight from the experts themselves!