So, you want to know how to dress like a Parisian in summer? There's no style chicer around the world than the Parisian style. From Carla Bruni to Jeanne Damas, Paris is home to some of the most well-dressed women in the world.
I moved to the city of light a few years back and I've been so enthralled with French girl style that I launched this very blog! From my apartment in Le Marais, I get a firsthand look at how the fashionable women of the city dress on a daily basis.
Parisian Summer Style Tips
Here are a few Parisian summer fashion trends to keep an eye on. You can incorporate these Parisian summer styling tips no matter where you live! When building your Parisian wardrobe, be sure to size up as Parisians tend to wear oversized clothing as opposed to skin-tight garments.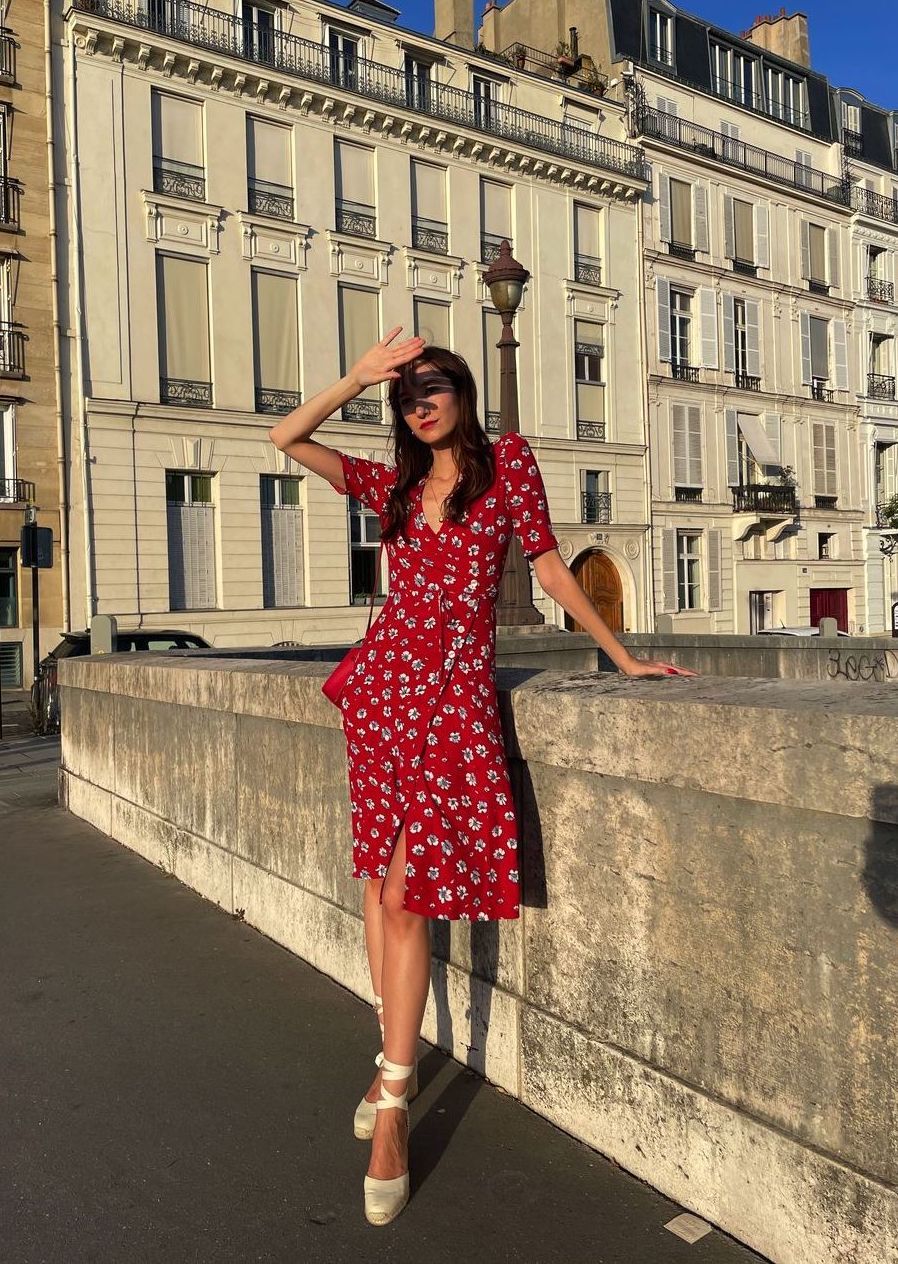 Here are some tips to help you create chic Parisian summer outfits.
Keep it Airy with Oversized Button-Ups
Parisians love the oversized look and when summer comes around, they wear oversized button-ups to work to keep their look chic while also staying cool.
Stick to Neutral Colors
This is one French girl cliché that's true – Parisians aren't very daring when it comes to color. Instead, they have a large wardrobe full of neutral colors – black, white, beige, and white – with a few pops of navy blue and red mixed in.
Choose Breathable Fabrics
Cotton and linen are the fabrics of choice for Parisians when summer rolls around. These are the most breathable fabrics you can choose for your clothing to keep you cool and looking chic!
Stock Up On Basics
Parisians always make sure to have a well-stocked closet full of basics including lots of plain white t-shirts which can be paired with jeans, blazers, skirts, and a wide variety of summer outfits.
Have a Few Cocktail Dresses Ready
You never know when you might get texted about an evening soirée or receive an invitation to a summer wedding. Having a few fancy dresses on hand will save you when those last-minute plans come rolling in as they often do in summer!
Don't Bring a Jacket
Air conditioning is a rarity here in Paris – and most Parisians are utterly convinced it makes them sick – so you don't need to bring a sweater or jacket with you on super hot days in Paris. The chances are you'll be just fine in your t-shirt since there are not many climate-controlled interiors in Paris!
Always Wear Sunglasses
Lastly, Parisians never leave their apartments without their favorite French sunglasses! While Paris is known for its cloudy days, the sun does shine once in a while during summer!
I hope this Parisian summer style guide gave you insight into how to dress like a Parisian this season! Next up, the Parisian summer wardrobe essentials you must have!