I'm not going to lie. It's pretty hard to find some French style books that aren't overly clichéed or just plain out of date.
It seems like there are dozens of books about French style that have a really old feeling to them.
When researching books about French fashion to get inspiration from, I found out that most had been written in the 90s and early 2000s! They all seemed to mention some older French woman living in the 16th arrondissement who taught them all about French culture and living life to the fullest.
However, those books don't really inspire me so much and they present an overly simplified version of the French woman.
I wanted to discover fresh books that depicted the modern Parisian woman – the one you see on the streets today.
Paris has certainly evolved in the last decade and there are few books that reflect the contemporary French style. Nevertheless, I was able to unearth some hidden gems!
French Style Books
Here are the French girl style books that I think best represent the quintessential French culture we love with advice that works for modern-day times.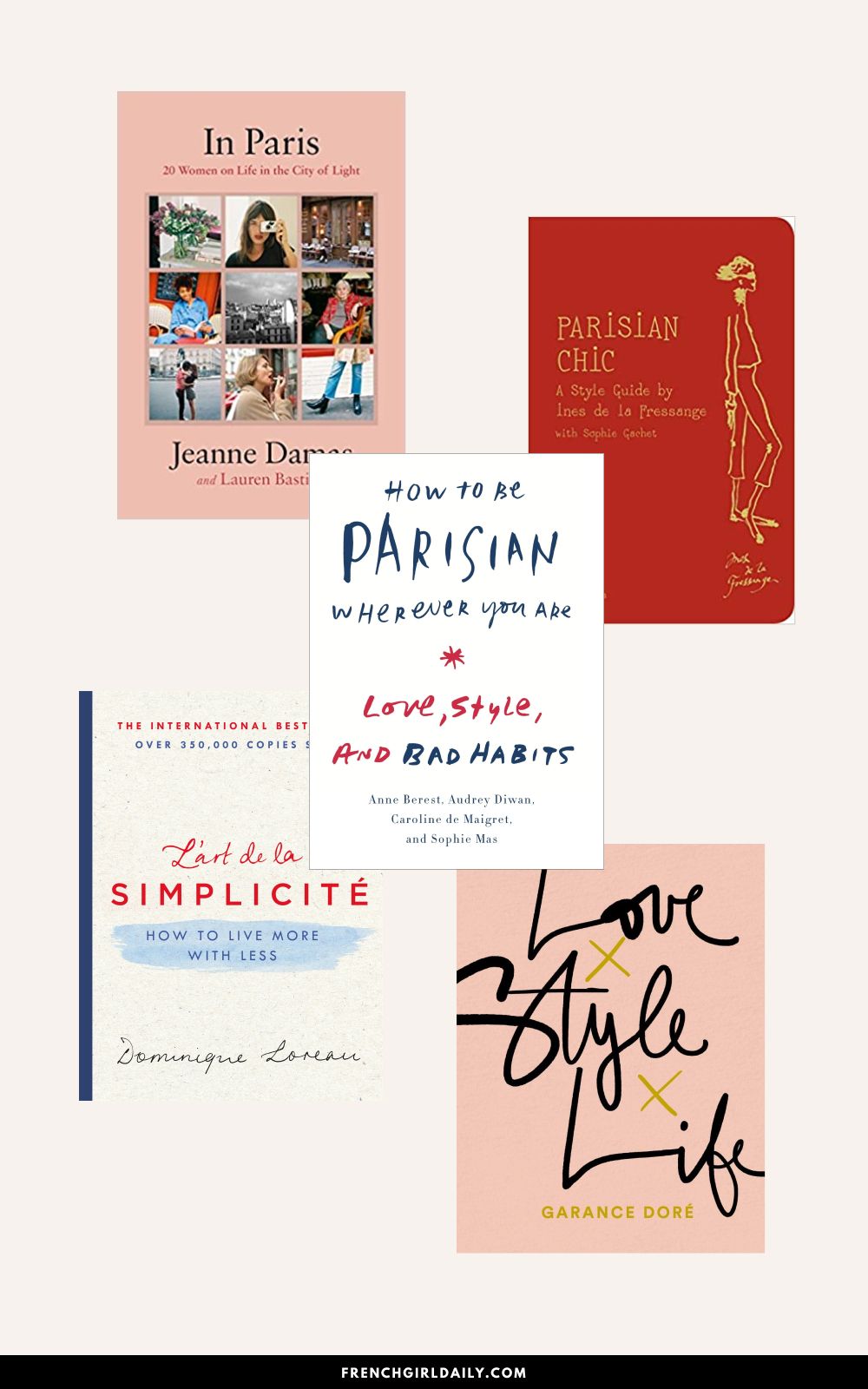 How to Be Parisian Wherever You Are
How to Be Parisian Wherever You Are: Love, Style, and Bad Habits is a French lifestyle book written by four Parisian women including former model and quintessential French woman Caroline de Maigret. Caroline and her co-authors Anne Berest, Audrey Diwan, and Sophie Mas – each of whom have fabulous careers in the arts, share their approach to life, love, and of course, style!
Parisian Chic
For a more practical guide to French style, turn to none other than Parisian Chic, written by Inès de la Fressange. A former model, de la Fressange takes her experience in the fashion industry and gives us step-by-step instructions on how to dress like a Parisian woman. She goes over her favorite closet basics, how to mix and match designers with affordable pieces, and much more. I stumbled upon this book at a small bookshop in Saint-Germain-des-Près and it's become one of my practical favorites!
In Paris: 20 Women on Life in the City of Light
French influencer Jeanne Damas takes us on a tour of Paris through interviews with a diverse range of charming women who make the city what it is: a beautiful place with endless style inspiration. In Paris tells the story of twenty women living in the city of light. It's filled with original photography to inspire your everyday outfits and make you fall in love with Paris in a new way.
Love Style Life
French street style photographer Garance Doré famously left her native France to discover America. Bringing her French roots along with her, Love Style Life offers a unique international perspective on following your passions and remaining true to yourself. With Corsican roots, Parisian sensibility, and a New York attitude, this book blends the best of French and American advice for the 21st century.
L'art de la Simplicité
As I've said many times before, less is more when it comes to French style. The French bestseller L'art de la Simplicité is a book that takes this mentality a step further. French author Dominque Loreau shows us how to declutter our lives the French way in her book about the art of simplicity. From the closet to the refrigerator to our inner circle of relationships, there's a lot of weight to let go of in our lives! Find out how to live your best French life with this guide on how to live better with less.
---
Next, read about the French fashion designer books for a look into the history of the designers behind France's most iconic high fashion brands.