These are the most famous consumer-facing French brands of all time across many different industries. While it's well-known for fashion, France has amazing exports in many other categories – like food, wine, home goods, lifestyle products, jewelry, travel, and so much more! Anything that is français in the States is automatically synonymous with luxury, presumed to be superior quality, and very chic.
Here are several iconic French brands that Americans love! These famous French brands have successfully expanded internationally and many of them are instantly recognizable around the world!
Here are the French brands I think you should keep an eye if you're interested in French-made goods.
Food & Beverage
Let's start with the food and beverage category. Some would say that France is better known for its food than its fashion! Several French food and beverage brands have managed to expand internationally and bring a taste of French cuisine to the rest of the world.
Evian
Evian makes mineral water that comes from several sources near Évian-les-Bains, France. While it's considered a luxury to drink in the States, in France, it's just another water brand and way cheaper!
Ladurée
Ladurée is the macaron brand to know if you love French pastries. Ladurée began as a Parisian tea room in 1862, until one day Pierre Desfontaines came up with the idea to join two macaron shells with a ganache filling, creating the delicious macaron we know today. 
Bonne Maman
Bonne Maman is a French food brand primarily known for its fruity jams, but also for various other snacks and cookies. The brand was launched in 1971 and produced widely despite having a homemade feel. The jams' handwritten label and gingham-patterned lid give the impression you're shopping from a local producer. The name even means "granny" in French! Bonne Maman jams are made using the most simple of ingredients and come in tasty flavors like strawberry and fig. This has been my go-to jam for years!
Mariage Frères
Paris has a historic tea room culture, and Mariage Frères is the most iconic French tea brand, founded in 1854. With exotic flavors and international scents, this storied French tea is always worth a trip for when in France.
Fauchon
Auguste Fauchon, the founder of Fauchon, a French gourmet food company, came from humble beginnings as a street food vendor in Paris before launching his fine foods shop at Place de la Madeleine in 1886. Word spread over time and the brand eventually came to symbolize French gourmet food. So much so, that in 1968, Parisian radicals raided the store and distributed foie gras to the poor.
Alcohol & Spirits
France is well-known for its liqueur, wine, and champagne, but only certain brands have truly become iconic around the world. Wine has mainly been left to smaller producers, but certain French champagnes have been branded to international success.
Fun fact: While we Americans use the word "champagne" for any white sparkling wine, in France, you can only call it champagne if it comes from the Champagne region in eastern France!
Veuve Clicquot
Veuve Clicquot is an iconic French champagne maker based in Reims, in the Champagne region of France. It was founded in 1772 and was always such a special treat for me to drink when I was living in New York. I remember receiving a bottle from my parents for my 21st birthday and found it so delicious!
Moët & Chandon
The French fine winery Moët & Chandon has origins in Épernay, France that date back to 1743. Founder Claude Moët worked to give the brand its high-quality reputation and over time, its champagne was enjoyed by royalty and aristocrats across Europe. Moët & Chandon was also the first champagne house to focus on exports.
Dom Pérignon
Dom Pérignon is among the very best champagne brands. It is named after the Benedictine monk, Dom Pérignon, who is credited with the invention of champagne. The brand was founded in 1921 and has become a symbol of luxury, quality, and elegance. It is one of the world's most popular and sought-after champagnes, with its bottles featuring a bright yellow label and signature foil seal.
The brand has become a hallmark of celebration and is often served for special occasions like weddings and New Year's Eve parties. This ultra-luxury vintage champagne is well-known among collectors. Mentioned countless times in American pop songs, Dom Pérignon is one iconic French champagne!
Ruinart
Ruinart is a historic French Champagne house, founded by Nicolas Ruinart in 1729, and a favorite among real Parisians. Over the centuries, Ruinart has become one of the most successful and respected Champagne brands in the world. Its success is due to its popular signature mixture of Pinot Noir, Chardonnay, and Pinot Meunier grapes, which the vineyard has produced since the 18th century.
Hennessy
Hennessy is one of the oldest and most successful cognac brands in the world, established in 1765 by Richard Hennessy. It originated in France, where it is still headquartered today, and has since become a globally recognized name. Hennessy produces some of the finest quality cognacs, with a range of styles to suit every taste.
Home Goods
From cooking to decor, there are a few iconic French home goods brands to know if you love decorating your house the French way!
Le Creuset
Le Creuset is a French cookware brand that was founded in 1925 by two Belgian industrialists, Armand Desaegher and Octave Aubecq. The beloved French kitchen brand sells premium cast-iron French oven cookers, notably in many different color varieties. The brand is well-known for its signature enameled cast iron cookware.
Staub
Staub is a French cookware brand that has been producing high-quality, durable kitchenware since 1974. Founded by Francis Staub, the company has become a leader in the cookware industry, with products designed to be long-lasting and made of cast iron and enameled materials. The cookware is also oven-safe and compatible with all types of cooktops. Staub is a popular choice among professional and home chefs alike.
Diptyque
From candles to perfumes, Diptyque is one of the coolest French home brands to own and make your home a little bit more French. Diptyque is a French luxury fragrance and home décor brand that was founded in 1961 in the heart of the artistic Rive Gauche side of Paris. The Diptyque Baies candle is an all-time favorite.
Lacanche
If you follow kitchen renovations and kitchen design, you've undoubtedly come across these sleek French ranges, made by Lacanche. These ovens don't come cheap, but they are one of the best workhorses you can buy. Lacanche ranges have been custom-made in France since the 18th century, and they are shipped across the globe every year.
La Cornue
La Cornue is a French brand of luxury kitchen appliances and ranges that has been around since 1908. Founded by Albert Dupuy, La Cornue was built with a passion for craftsmanship and innovation, and it remains one of the most respected and admired kitchen brands in the world. La Cornue has become renowned for its range of designs, materials, and colors, making it a favorite of some of the world's top chefs and culinary professionals. Its French ranges are made with the highest quality materials and craftsmanship. The brand has gained a prestigious reputation and its ranges can be found in some of the most luxurious homes and restaurants in the world.
Christofle
Christofle is a French luxury home goods brand that has been manufacturing fine silverware and tableware since the 1830s. Founded by Charles Christofle, it is known for its elegant designs and high-quality craftsmanship. From the beginning, Christofle has been dedicated to creating beautiful and timeless pieces that stand the test of time. Over the centuries, Christofle has become a leading name in silverware and it is considered one of the most prestigious French brands in the world.
Laguiole
The Laguiole brand is one of the most iconic and beloved brands in the world of high-end cutlery. Founded in 1829 in the small French village of Laguiole, the brand quickly became a symbol of the highest quality craftsmanship and design. Today, Laguiole is still one of the most popular French brands in the world, producing a wide variety of cutlery, from steak knives to high-end chef's knives. The company's commitment to craftsmanship and quality has kept them at the top of the cutlery industry.
Travel & Hotels
These French travel brands and French hotel brands have cemented France as a destination for luxury travel.
Air France
The national French airline Air France is my favorite way to travel across the Atlantic. As a partner of Delta, there's a good chance you've flown Air France, too! I always enjoy the French products they serve on board like Camembert cheese and red wine. This is certainly the most iconic French travel brand.
The Ritz
When it comes to luxury French hotels, nothing compares to the Ritz. The Ritz Hotel brand is one of the most iconic and luxurious hotel brands in the world. Despite being founded by a Swissman, the Ritz has become synonymous with the golden age of Paris, earning its iconic hotel status. The Ritz brand traces its origins back to 1898 when Cesar Ritz opened the first Ritz Hotel in Paris. Since then, the Ritz brand has become synonymous with opulence, elegance, and modern comfort.
Delsey
When I needed a new suitcase, everyone recommended I turn to Delsey, the second-largest suitcase manufacturer in the world. Delsey is a French luggage brand that has been in operation since 1946. Founded by Emile Delhaye and Sebastien Delahaye, the brand has built a strong reputation for quality, innovation, and reliability. Delsey has become an iconic French travel brand by creating durable suitcases for far-flung travels by train, plane, or car.
Beauty & Perfume
This comes as no surprise, but the amount of successful French beauty brands is truly astonishing! From makeup to perfumes, these are the French beauty brands that have reached icon status.
L'Oréal
As the world's largest cosmetics company, there isn't an area of beauty that L'Oréal doesn't address. It began with Eugène Paul Louis Schueller, who developed a safe hair dye formula that was sold to Parisian hairdressers in 1919. Since then, the company has successfully branched out into all sectors and distribution channels, thanks to its innovative research and development centers.
Guerlain
Guerlain is a French perfume house that has been creating and selling perfumes since 1828. Founded by Pierre-Francois Pascal Guerlain, the brand has become one of the world's oldest and most respected perfume houses. Guerlain has been at the forefront of the industry for almost 200 years, creating perfumes that have become iconic and beloved around the world.
The modern form of lipstick, in its solid form, can be traced back to the late 19th century when it was developed by several different companies, including the French cosmetic company Guerlain. In 1884, Guerlain introduced a tube of lipstick that was wrapped in silk paper, and this was considered a significant innovation at the time.
Lancôme
Two French men founded Lancôme in 1935 with the launch of five fragrances. The name was chosen by Elisabeth d'Ornano, the wife of one of the founders, and was inspired by the Lancosme forest in the La Brenne region of France.
Soon after, Nutrix, an all-purpose repair cream was launched by the company, followed by many more makeup and skincare products. La Vie Est Belle is the company's best-selling perfume, and Hypnôse has become a cult mascara product.
Sephora
Founded by Dominique Mandonnaud in 1970, international French beauty retailer Sephora carries over 3,000 brands and is arguably the largest beauty retailer in the world (perhaps second to Ulta). It has gained consumers' trust thanks to its knowledgeable sales staff and generous return policy that permits used products to be returned for up to 60 days. I have memories going back to my childhood of shopping for my first ever beauty products at Sephora so this one is certainly iconic for me.
L'Occitane en Provence
Few regions in France are as glamorous as the southern Mediterranean region of Provence. Olivier Baussan, a native of the region, capitalized on the reputation of the province by producing French soaps, hand creams, shower oils, and skincare products using essential oils and traditional techniques. The L'Occitane en Provence brand has become internationally renowned.
Clarins
The Clarins brand was founded in 1954 by Jacques Courtin-Clarins, a French pharmacy student. He created unique, plant-based face and body treatments that gave birth to the Clarins brand. Since then, the company has developed into a globally recognized luxury skincare and beauty brand. Today, Clarins is a leader in the beauty industry, offering an extensive range of products including skincare, makeup, body care, and fragrances. Their commitment to natural and effective ingredients has made them a French cosmetics industry success.
La Roche-Posay
The La Roche-Posay brand has been around since 1975 yet the mineral water sourced from the small French village of La Roche-Posay, located near Poitiers, France, has been in use for centuries. The brand was created by a pharmacist who wanted to harness the power of this thermal water to create a line of products specifically designed to be gentle on sensitive skin. La Roche-Posay quickly became a trusted brand for those with delicate skin. The brand is sold on Amazon.
Caudalie
Founded in 1995 by Mathilde Thomas, Caudalie has earned its reputation as the best contemporary clean French beauty brand. Caudalie specializes in vinotherapie, a process that harnesses extracts from grapes to create skincare products. The brand's Vinoperfect dark spot serum is a worldwide bestseller.
Yves Rocher
Yves Rocher is a French cosmetics and beauty brand founded in 1959 by the French entrepreneur, Yves Rocher. The brand started as a small family business that focused on using natural ingredients to create a range of cosmetics and beauty products. Yves Rocher was passionate about the environment and believed in the power of plants to heal and enhance the skin. Today, the brand is a global leader in the cosmetics industry, with a presence in over 100 countries.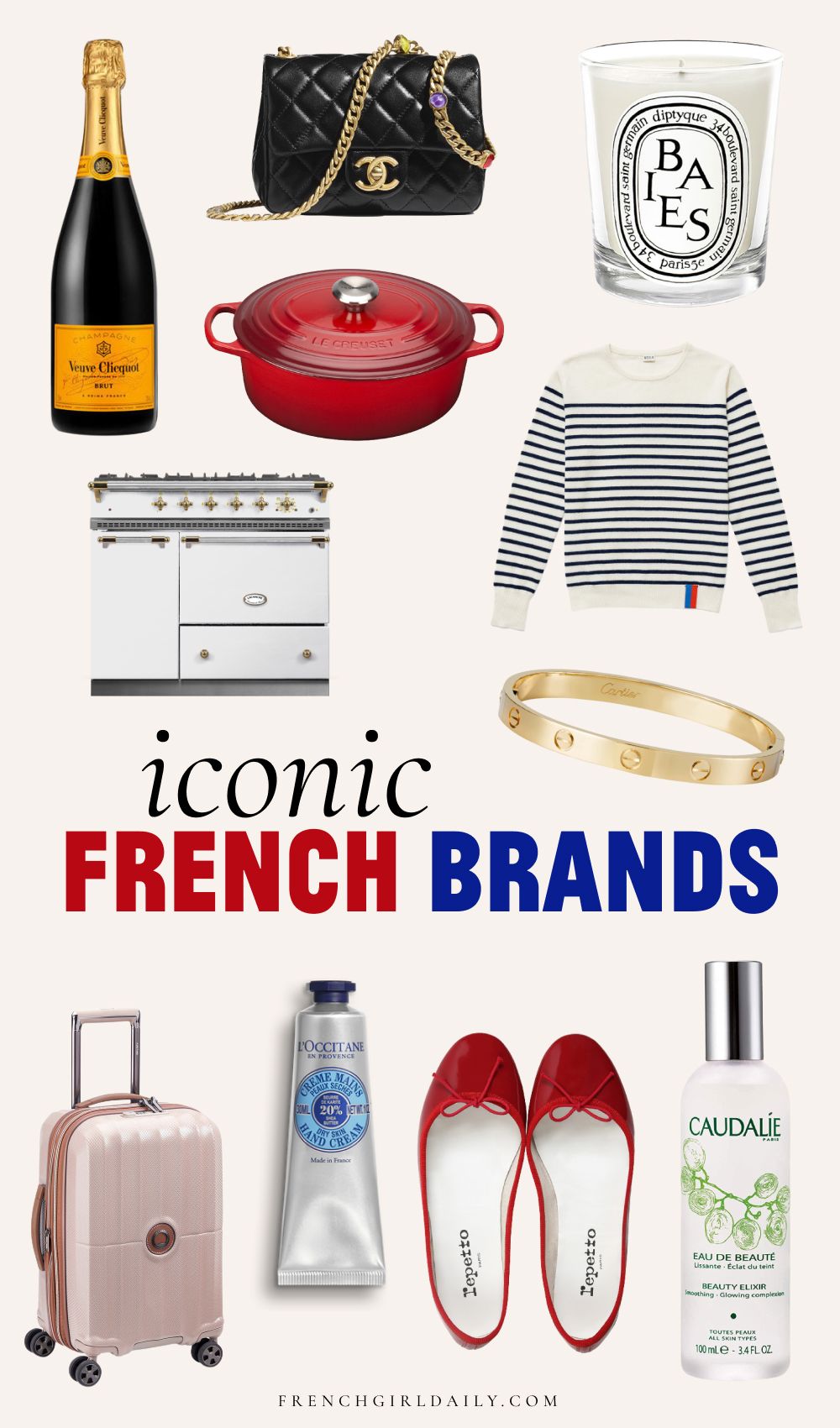 Fashion
I think it's a shame that luxury brands get all the attention in the States because there are a few less expensive gems that I wish more people knew about. Then again, I guess reaching "icon" status does take some luxury prestige! In any case, these are the best French fashion brands you must know about if you want everyday French girl style.
Saint James
Saint James is an iconic French marinière brand for those in the know about French fashion. The classic blue and white striped Breton shirts have been made in France since 1889. You can read more about the iconic la marinière shirts on the blog.
A.P.C.
Sometime in the late 80s and early 90s, a minimalist shift in design happened in France, led by A.P.C. in 1987. Rejecting the extravagant and intricate design that French haute couture was known for, founder Jean Touitou created one of the first successful French fashion lines known for its practical simplicity. Today, A.P.C. is highly sought after in the European, American, and Asian markets. It has become a symbol of the new contemporary France.
Sézane
Sézane is definitely one of the newer brands on this list, but I believe this brand has rightfully earned its place as an iconic French fashion brand. Many Americans consider it the go-to French fashion shop when they are looking for new clothes. Time will tell if it truly becomes iconic in the long term!
Petit Bateau
Petit Bateau is a French clothing brand that specializes in high-quality, comfortable clothing for babies, children, and adults. The brand was founded in 1893 in Troyes, France, by Pierre Valton, who started by making traditional cotton underwear. In 1918, Petit Bateau created its first bodysuit for babies, which quickly became a popular item for parents. Over the years, the brand has continued to innovate and expand its product range, including introducing new fabrics such as soft cotton jersey, which has become a signature material for the brand.
Bonpoint
Bonpoint is a French luxury fashion brand that specializes in children's clothing. The brand was founded in 1975 by Marie-France Cohen and her husband, Bernard, in Paris, France. The company started as a small boutique selling children's clothes made from high-quality materials with a focus on attention to detail and a classic aesthetic. Bonpoint quickly became a popular choice for parents looking for high-quality and stylish clothing for their children.
Luxury Clothing
I couldn't make this iconic French brands list without sharing the French luxury goods brands we all know and love so well. Here are the most iconic luxury French fashion houses that are renowned across the world! Again, this is a fairly limited selection of luxury brands that I feel have made it to iconic, household-name status.
Chanel
Chanel is without a doubt the most iconic French high fashion brand of all time – and perhaps even the most iconic fashion designer in the world. Since founding her womenswear business in 1910, Gabrielle "Coco" Chanel has transformed the way women dress throughout the decades. Often imitated but never duplicated, Chanel has given us countless iconic pieces like the 2.55 bag, cap-toe shoes, and the boxy tweed suit.
Christian Dior
Christian Dior established his eponymous fashion house in 1946, with a sharp return to traditional female dressing – the "New Look" as it was called, cinched women's waists and exaggerated their hips, creating an ultra-feminine silhouette. Yves Saint Laurent famously became Dior's assistant in 1955, and it's clear that the Dior brand has had far-reaching influence throughout the times.
Givenchy
Givenchy is a French luxury fashion and fragrance brand that was founded in 1952 by Hubert de Givenchy. The brand quickly became known for its sophisticated, elegant designs, and it gained a reputation for dressing some of the most famous women of the time, including Audrey Hepburn, who became a lifelong friend of the designer. Givenchy's designs were characterized by their clean lines, elegant silhouettes, and impeccable craftsmanship.
Charvet
Charvet is a French luxury shirtmaker and tie maker that has been in business since 1838. The brand was founded by Joseph-Christophe Charvet, who opened his first shop in Paris, France. Charvet quickly became known for its high-quality, handcrafted shirts, which were made using only the finest materials and the most skilled artisans. The brand was favored by many well-known figures, including royalty, celebrities, and politicians, who appreciated its attention to detail and commitment to excellence. Today, Charvet continues to be a leader in the luxury shirt and tie market.
Sportswear
Lacoste
Lacoste is a French fashion brand that was founded in 1933 by tennis player René Lacoste and knitwear manufacturer André Gillier. The brand initially specialized in creating sportswear, with a focus on designing polo shirts that were both functional and stylish. The iconic Lacoste polo shirt, which features the brand's signature crocodile logo, became a symbol of casual elegance and has since become a staple of modern fashion.
Moncler
Moncler is a luxury fashion brand that specializes in high-end outdoor clothing and accessories. The brand was founded in 1952 in Monestier-de-Clermont, France, by René Ramillon and André Vincent, and it initially focused on creating quilted sleeping bags and tents. However, the brand soon expanded into creating down jackets for mountain climbers and skiers, which quickly became popular for their warmth, durability, and style.
Today, Moncler is a global brand that is known for its luxurious and high-quality outdoor clothing and accessories, including down jackets, parkas, vests, and boots. You can always spot a Moncler coat when skiing in the French Alps!
Handbags, Shoes & Accessories
These are the handbag designers, French shoe brands, and accessory labels dreamed about by countless consumers across the globe! From daring founders to artisan craftsmanship, France has no shortage of brands that have mastered the art of accessory, handbag, and shoe production.
Hermès
Hermès for me is really the iconic French luxury accessory brand. It is one of the few brands that has resisted contemporary marketing tactics used by almost every other luxury goods brand in modern times. You won't see any young creative directors appointed here and certainly no tasteless celebrity collaborations from Hermès. I respect the Hermès commitment to traditional craftsmanship and their opposition to joining one of the two powerful French conglomerates LVMH and Kering.
Louis Vuitton
Louis Vuitton founded his brand in Paris in 1854, originally by creating a lightweight, stackable trunk that traveled well. Some decades later, in order to fight counterfeits, Vuitton's son introduced the monogram canvas we know today and trademarked the quatrefoils pattern logo. As Vuitton's brand grew, smaller bags were introduced to the market – notably the Speedy bag which Audrey Hepburn requested for everyday use. While Louis Vuitton's brand is a far cry from the exclusive accessory brand it once was, it remains a powerhouse in the French economy.
Longchamp
French luxury leather goods brand Longchamp was the ultimate sign of chic where I grew up in Connecticut. The Pliage tote bag was a mainstay in the 2000s and it still is today – a rare achievement. This Parisian leather goods brand has stood the test of time since its founding in 1948.
Roger Vivier
Roger Vivier is a French luxury shoe and accessories brand that was founded in 1937 by a designer of the same name. Vivier quickly became known for his innovative designs, which included the first stiletto heel and the Pilgrim pump, a low-heeled shoe with a square buckle. The brand gained a reputation for its timeless elegance and impeccable craftsmanship, in part thanks to the brand's many appearances on the feet of actress Catherine Deneuve in several French films of the 60s.
Today, Roger Vivier is owned by the Tod's Group, but it continues to maintain the same commitment to luxury, quality, and innovation that made it famous.
Goyard
Goyard is a luxury leather goods brand from France that has been around since 1853, specializing in handcrafted luggage and accessories. The brand was founded by François Goyard in Paris, France.
Goyard became known for its signature coated canvas material called "Goyardine." Goyardine is made using a secret process that results in a lightweight, waterproof, and durable fabric, which is used in the production of the brand's signature trunks, handbags, and small leather goods.
Goyard is also famous for its iconic "Chevron" pattern and the hand-painted personalization service offered to customers. Today, Goyard remains a highly sought-after luxury brand, coveted by discerning customers for its timeless designs, exquisite craftsmanship, and unparalleled attention to detail.
Berluti
Berluti is a French men's luxury brand that was founded in 1895 by Italian Alessandro Berluti. Originally a bespoke shoe brand, Berluti became known for its exceptional quality and unique patinas, which were achieved through a special dyeing process that used natural pigments. The brand has since expanded its offerings to include high-end men's clothing and accessories.
Christian Louboutin
Christian Louboutin is one of the most internationally recognizable French shoe brands. Louboutin has created an unmistakable brand identity through its signature red soles and sky-high stiletto heels.
Repetto
Repetto is a French luxury dancewear and shoe brand that was founded in 1947 by Rose Repetto. The brand became famous for its ballet flats, which were originally created for the dancer Brigitte Bardot. The flats were designed to be both functional and stylish, with a simple yet elegant design that made them suitable for both the stage and the street. Repetto's ballet flats became a symbol of French chic and have since become a staple of modern fashion. Repetto's beloved Cendrillon flats are worn by Parisians daily.
Fine Jewelry
Lastly, there are several iconic luxury French jewelry companies that symbolize the ultimate in French fine jewelry and watches. I'm sure you will recognize these!
Cartier
From the Tank watch to the Love bracelet, there are numerous iconic creations worn by celebrities and public figures over the years which have catapulted Cartier to icon status. This timeless French jewelry brand was founded by Louis-François Cartier in Paris in 1847. It gained an international reputation thanks to glamorous clients like Grace Kelly and Jackie Kennedy Onassis. You need at least one Cartier piece in your investment jewelry collection.
Van Cleef & Arpels
Van Cleef & Arpels is a French luxury jewelry and watches brand that was founded in 1906 by Alfred Van Cleef and Salomon Arpels. The brand quickly gained a reputation for its exquisite designs, exceptional quality, and innovative techniques, and it became a favorite of many of the world's most wealthy and powerful figures. Van Cleef & Arpels is known for its use of precious materials, including diamonds, emeralds, and sapphires, as well as its unique and intricate designs.
Chaumet
Chaumet is a French luxury jewelry brand that was founded in 1780 by Marie-Etienne Nitot. The brand quickly became known for its exceptional quality and exquisite designs, and it served as the official jeweler to the French emperor Napoleon Bonaparte. Chaumet continued to create jewelry for many of the world's most powerful figures, including tsars, kings, and queens, and it became a symbol of French luxury and sophistication.
Today, Chaumet continues to be one of the most prestigious jewelry brands in the world.
---
There are many, many more French brands that are perhaps more well-known within Europe, but I think this list encompasses the brands that have succeeded in creating a name for themselves outside the European space.
What do you think about this list of the most iconic French brands? Did I miss any you love? Do you disagree with one?