It's no secret that Parisians turn to French pharmacy brands for their everyday skincare concerns. France has an established reputation as a country with some of the best scientific research labs and there are several companies that have produced some amazing beauty products.
Owning at least a few products from each of these French pharmacy brands will help you build the perfect French girl beauty routine.
French Pharmacy Brands
Shopping at the pharmacy for beauty products is something that is distinctly French. While we Americans think of medication and low-quality beauty products when going to the pharmacy, pharmacy beauty is surprisingly high-end in France.
I think the French take a more scientific approach to beauty, and therefore many anti-aging and skincare products are found at the pharmacy. While Americans see skincare as an aesthetic concern, the French approach it from a healthcare point of view, and thus seek out their pharmacist for advice.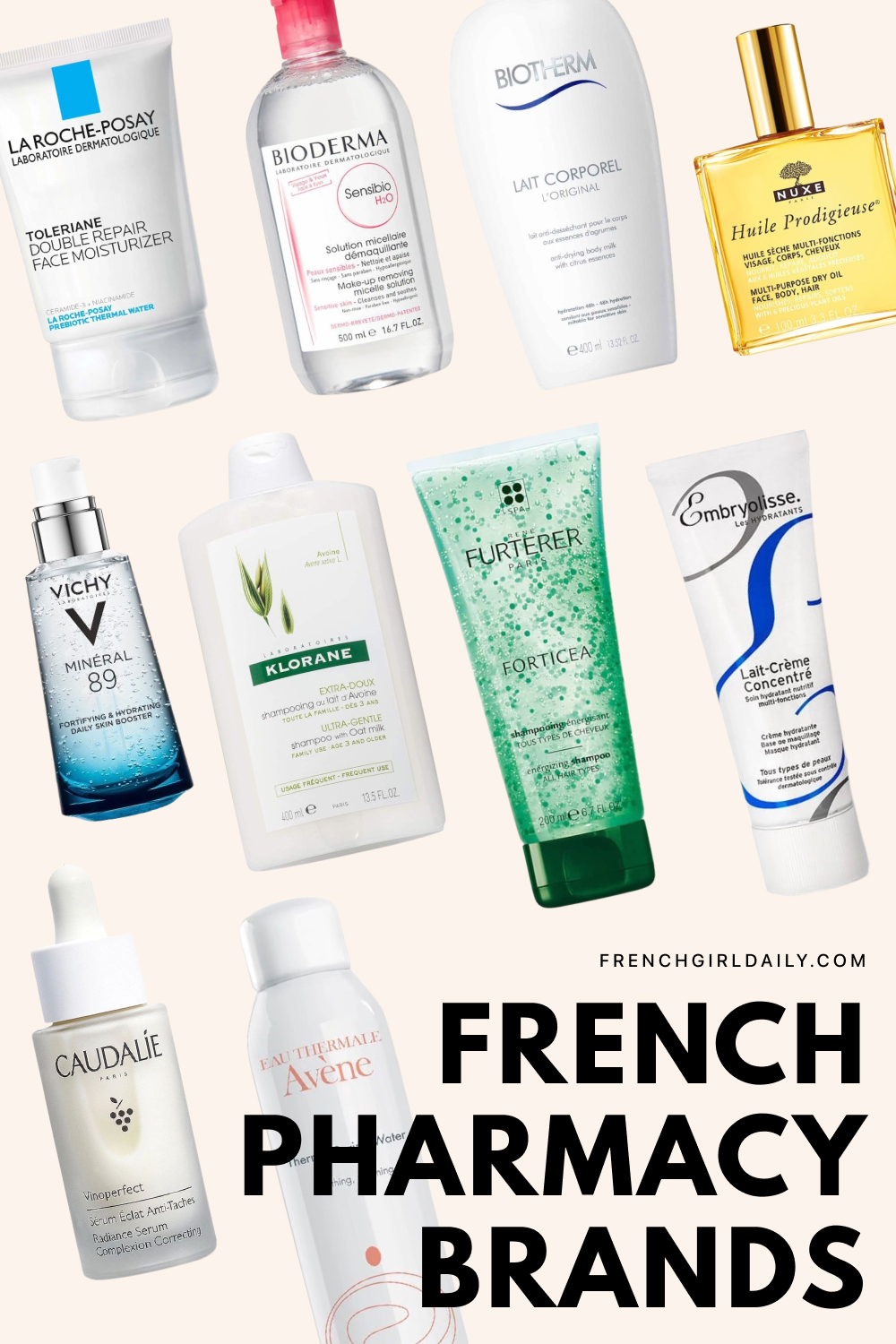 If you are in France, be sure to check out these top-rated best French pharmacy brands. We'll tell you a bit about each of their history as well as what you must buy from each!
Caudalie
Founders of Caudalie, Mathilde, and Bertrand Thomas, met Professor Joseph Vercauteren, a laboratory director of the Pharmacy University of Bordeaux, before creating the company we know today. Professor Vercauteren, in teaching them about the powerful antioxidants found in grape seeds, inspired the first three original products of Caudalie and the company itself.
Mathilde and Bertrand began creating a name for themselves in 1995, by promoting their first three products to pharmacists throughout France. The now infamous Beauty Elixir—inspired by the Queen of Hungary's elixir of youth—was created in 1997 and has been a cult classic ever since.
Caudalie has gone on to open successful Vinothérapie Spas, which combine the natural active ingredients of the grapes and grapevines to provide one-of-a-kind facials and body treatments. They have also patented the active ingredient in regenerative resveratrol and now produce products with Vinierine, which helps reduce the appearance of dark spots on the skin.
The best Caudalie products include the Instant Detox Mask and dark spot treatment Vinoperfect Serum.
Bioderma
For Bioderma, it all began with Jean-Noël Thorel, a pharmacist who sought to be innovative within the world of dermo-cosmetics. In 1977, Bioderma had its first success with the Nodé Shampoo. Bioderma aims to treat, heal, and preserve all skin types and conditions, including, but not limited to, photoprotection, dehydrated skin, cell regeneration, and sensitive skin, among others.
The company has created a wide variety of products and focuses, because of a rigorous review of cosmetovigilance. This is an international alert procedure that allows Bioderma to study the adverse effects or intolerances that are caused by ingredients in the skincare products.
Bioderma is a French pharmacy brand that seeks to preserve the skin's ecosystem, which entails having the awareness to not over-treat the skin. Bioderma has made a name for itself by formulating products for every skin concern to help tackle and improve the quality of the customer's most important organ, the skin.
The one French pharmacy product you must try from Bioderma is their famous H20 micellar water which I use almost every day!
La Roche-Posay
La Roche-Posay is a company that understands that everyone who needs skincare products should have access to them. When they formulate each product, they do it with the understanding that the skin is the biggest organ; it needs to be healthy and look good. The goal at La Roche-Posay is to teach people about the importance of sun safety. To help prevent early signs of aging and help those who suffer from skin conditions, like eczema, with high-quality products.
La Roche-Posay has products of remarkable quality because they partner with dermatologists to develop and create what they put out on the market. The Thermal Spring Water has been used at the La Roche-Posay Thermal Center since 1905, helping over 7,500 patients yearly with its healing properties.
Thermal water has been the key ingredient used in La Roche-Posay's products since 1975 when French pharmacist Rene Levayer created the brand La Roche-Posay Laboratoire Dermatologique. The mission for Mr. Levayer was to develop skincare products that dermatologists would use and recommend.
La Roche-Posay is one of the best all-around French pharmacy brands and you can turn to them for almost anything including acne concerns. You must try the bestselling La Roche-Posay Hydrating Gentle Cleanser as well as the Toleriane Double Repair Face Moisturizer.
Avène
The standard for dermo-cosmetics, hypersensitive skin was set by Avène. The history of this company begins in the South of France in 1736 when Marquis of Rocozels' horse rolled in the thermal spring in Avène. It is believed that Rocozels' horse suffered from alopecia (or patchy hair loss) and after a frolic in the thermal springs, his coat was restored to a healthy condition.
The Marquis of Rocozels opened baths in Avène, where he welcomed people who had a variety of skin conditions in 1743. Almost two decades later, in 1772, the Montpellier Academy of Medicine recognized the thermal spring water of Avène for its therapeutic properties.
By 1847, the French government declared the use of thermal spring water from the Avène Hydrotherapy Center an official "public benefit." Fast-forward to 1990, which is the year this French skincare brand was born; this is when Eau Thermale Avène became the first manufactured production site established at the springs.
Top Avène products include Eau Thermale spring water spray and High Protection Tinted Compact.
Embryolisse
The beginnings of Embryolisse are almost fairy-tale-like. In 1950, a dermatologist in a Parisian hospital created the now infamous Lait-Creme Concentré. The dermatologist was a specialist in skin diseases and dreamed of starting his line of skincare. Because the creme was so well-received, it sold exceptionally well worldwide and became a global commodity.
From here, Embyolisse has taken on a life of its own and now carries a wide variety of pharmaceutical skincare products. Embryolisse products are not only highly sought after but are also recommended by dermatologists, chemists, and makeup artists. Laboratories Embryolisse coined the term "dermo-cosmetic care," which is driven by the philosophy of the essentials and the requirements of effectiveness and tolerance.
Based on this philosophy, the range of skincare you know and love was born, followed by their cosmetic products. The longevity Embryolisse has enjoyed is a true testament to the quality of the products.
Nuxe
Aliza Jabès is the founder of the French skincare company Nuxe, which continues to do all of its formulations and manufacturing out of France. Jabès is a graduate of Science Po Paris, with an MBA in Finance and Marketing.
She took a big risk in 1990 when she decided to distribute the beauty products made at the Parisian Research Development laboratory. This decision was the best thing Jabès could have done, as it brought the products straight into the hands of the women she knew would love them.
The most loved products that Nuxe is known for, are: Huile Prodigieuse, Rêve de Miel lip balm and Nuxuriance Ultra. Nuxe continues to expand and create products, settings, and experiences. In efforts to create a space for women to nourish their minds and body, Nuxe opened a spa on Rue Montorgueil. Since the opening, they have expanded and opened 50 Spas worldwide.
Nuxe is definitely one of the more internationally successful French pharmacy brands.
Vichy
Vichy saw its beginnings in 1931 when Dr. Haller, the medical director at the thermal treatment center in Vichy, France, unearthed the riches of the Vichy Thermal Spa water on the skin. The water has 15 beneficial minerals and antioxidants. They have been found to noticeably improve skin quality and speed up its healing process. Dr. Haller can be credited for researching different skin types to formulate customized products according to different necessities.
As a company, Vichy has entered the digital age with innovations in skincare. In 2018, SkinConsult AI was launched; it is a skin diagnosis platform that gathers data using 15 years of research in skin aging. In 2020, Vichy launched Vichy Connect, a series of Livestream talks hosted by multidisciplinary medical experts who discuss dermatological topics. Thanks to continued collaborations between dermatologists, gynecologists, and nutritionists, Vichy possesses a wealth of understanding regarding women's skin and how to better serve women.
Be sure to try the highly-rated Vichy Minéral 89 Face Serum.
Biotherm
Biotherm was born from the innovative mind of Jeanine Marissal, who added thermal plankton from the mountain springs of Molitg-Les-Bains to her formulations in 1952. By 1957, Biotherm released its first moisturizer, Hydrothermal Cream. Moving forward into 1974, Princess Grace inaugurated a new research center for Biotherm in Monaco. By 1985, not only was Biotherm a successful skincare company for women, but it now also carried products for men.
The company continued to innovate into 1987 when they released specific formulas dependent on age, catering to those in their 30s, 40s, and 50s. By 1994, Biotherm started its Biotechnology center where they could isolate and cultivate Life Plankton™ to create one-of-a-kind formulations. In 2012, in celebration of their 60th anniversary, they introduced a new platform in Biotechnologies; Beauty in the Deep.
Biotherm creates eco-designed products and packaging; they essentially strive to manufacture products that are safe for the environment by using ingredients that are renewable to achieve this.
The Biotherm Anti-Drying Body Milk is a best-selling favorite.
Klorane
Pierre Fabre, the founder of Klorane, was a man with a love for plants and truly believed in their healing properties and beauty benefits. In 1965, he founded Klorane with the concept of Pure Botanical Care in mind. Throughout the years, Klorane released one innovative product after the next. In 1966, shampoo for blond hair was launched with chamomile; in 1967, makeup remover with soothing cornflower was launched, then in 1971, the very first dry shampoo ever on the market was developed.
The Klorane Institute was founded in 1994, to protect, explore, and furthering educate on plant species and biodiversity. Because of Klorane's efforts toward sustainability in 2010, they were given the Ecocert Environment ISO 26000, which is an award for quality and sustainable development. Klorane's involvement in the Great Green Wall Project led to being awarded by UNESCO in 2015.
Today, Klorane continues producing high-quality products and has the Budding Botanist Grant Program to help the next generation learn about plants and discover their local ecosystem.
Klorane's dry shampoo is an international favorite.
René Furterer
In the 1950s, while René Furterer worked as a hairdresser in his wife's salon, he discovered a need for products that repair damage from styling techniques. His answer to this great need was the Karité nourishing mask, which continues to be a beloved choice for hair damage repair.
René Furterer created a method referred to as Etheirology in 1957, which consisted of three phases: prepare, cleanse, and treat. He practiced this method in his first Hair Spa in Paris. The company supports and applies Fair Trade, Supportive Accountable Sourcing of the plants used in their products.
They source Shea Butter from a small company in Burkina Faso named SOTOKACC; they obtain Moringa from Madagascar through SEAR; and source Argan through Moroccan cooperatives that produce Argan Oil. This is how the René Furterer brand shares knowledge of ingredients and respects the traditional methods of sourcing.
The René Furterer VOLUMEA Volumizing Shampoo is a wonderful hair solution for women with thin hair.