In my ever-elusive quest for the perfect French girl hair, I've come across countless tips tucked away in Instagram captions and YouTube videos. Today I'm spilling the best French hair tips and secrets I've gathered over the years.
My hair is something that I've always struggled with, yet no one believes me when I tell them. I have straight, thin, and utterly flat hair. Sure I don't have a lot of the maintenance that curly-haired women do, but on the flip side, it's a big struggle for me to do anything remotely interesting with it!
French girl hair comes in many textures and styles. I was talking with a French friend who said that you can sometimes tell what part of France someone is from by looking at their hair. Generally speaking, French women from the north tend to have lighter colored hair that is very straight and thin. On the other hand, French women from the south tend to have much more voluminous and sometimes very wild and curly hair. Of course, there are many exceptions to this!
That being said, no matter what kind of hair you have, you can definitely take inspiration from the French when it comes to your own head of hair!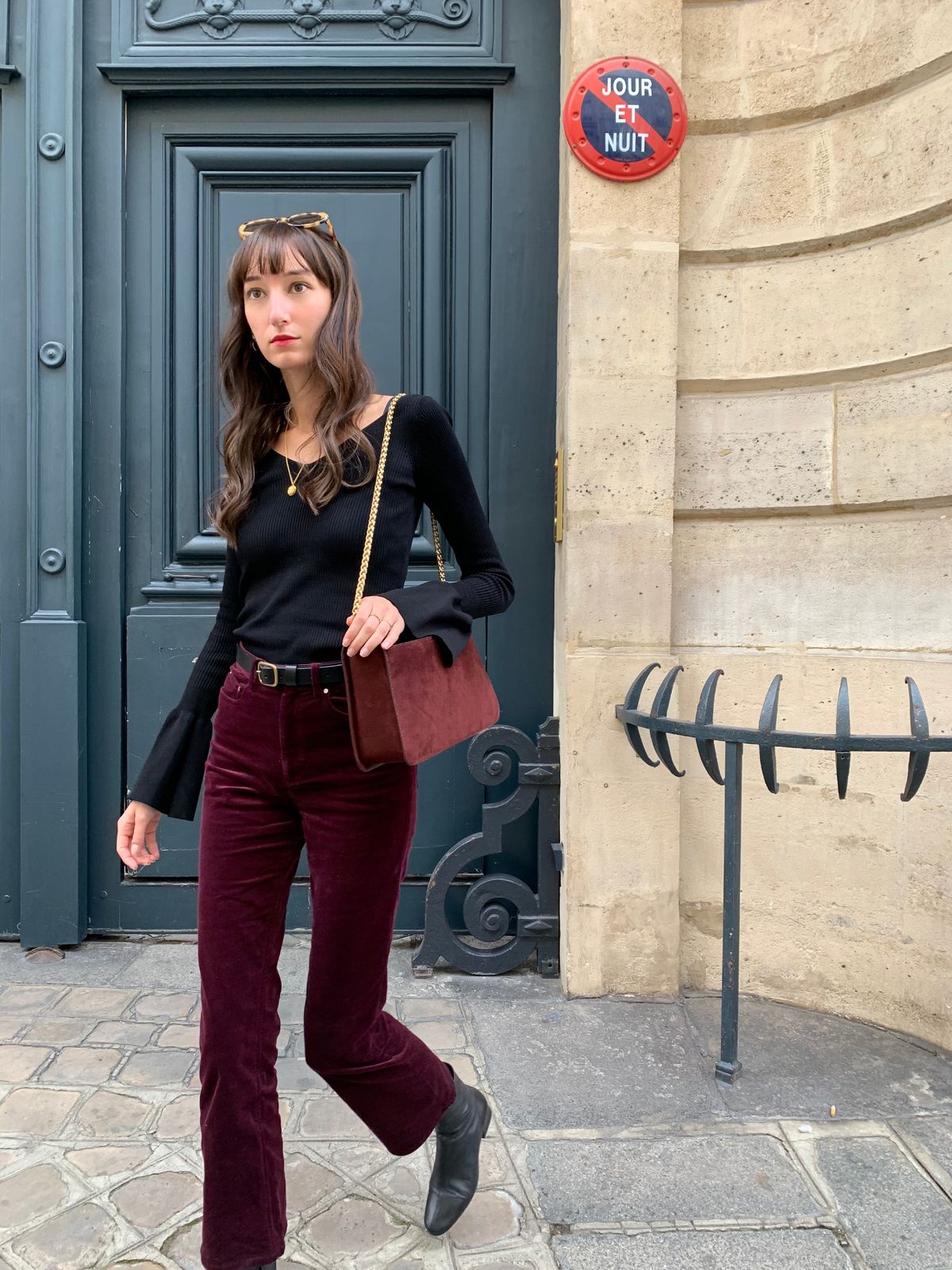 Let's talk about the first rule of getting French girl hair.
Leave it Natural
What should you do to get French girl hair? Well, don't do anything! French women are known for leaving their hair as natural as possible. They celebrate natural beauty, as opposed to changing their hair to suit some fabricated beauty standard.
French Girl Haircare
How do French women care for their hair?
Wash the Hair Less
The first French girl haircare fact may surprise you. French girls wash their hair far less than us Americans. Twice or three times a week is standard.
The tricky part is that during the early stages of doing this, your hair will be greasy the longer you go without washing it. It takes a few months for the hair to adjust to being washed less, but after a while, your hair will adjust. You see, the scalp produces oil in response to the shampoo removing it. The more we shampoo our hair, the more oil our body produces! The key is to ease into washing your hair less often. I did this during the first lockdown last year when I didn't care if my hair was oily at home.
I love my new low-maintenance French hair routine.
I have super long hair which takes forever to dry, so washing it less often has given me so much more free time! I think it's hard to come out of that always-look-perfect American mentality. Embracing the Parisian carefree look (without totally letting yourself go) has made me so much less stressed about having perfectly shiny hair every day.
The benefit to washing your hair less is that it has a certain volume to it the day after you sleep on it. Before, this voluminous effect would be washed out with the water, but now my hair has more life to it the next morning!
Using a quality shampoo is definitely necessary on the days you do wash your hair. Choose one of the best French shampoos suited to your hair type for optimum results!
Personally, I use this ultra-gentle French shampoo on my straight, thin hair which leaves my hair extra soft.
Use Dry Shampoo More
On the days that French girls don't wash their hair, they use dry shampoo instead. Klorane dry shampoo with oat milk is the product of choice. It is made of a light and powdery formula which quickly absorbs excess oil in the hair without leaving a residue or white film. I always grab a two-pack of this miracle dry shampoo when I head to City Pharma in Saint-Germain. A huge benefit is that it gives my straight and flat hair a bit of volume, too!
Try a Leave-in Conditioner or Hair Cream
French girls sometimes use a leave-in conditioner or hair cream in the winter when hair gets extra dry. I have become obsessed with leave-in hair creams because they make my hair smell divine.
This one smells like desert dates and it's such a pleasure to smell it on my hair in the morning! I apply it to either damp or fully dry hair. It does not leave my hair oily like some other hair creams that I have tried in the past, so you don't have to worry about applying too much by accident.
Do a Hair Mask Once a Week
If I have an important day where I want my hair to look extra good, I do a hair mask about once a week to keep it extra shiny and tangle-free. I use this treatment mask by OUAI which leaves my hair feeling super soft and looking sleek.
The French mask I see recommended most often by French women is this Leonor Greyl mask. Yes, it's pricey, but in my experience, when it comes to hair masks, you certainly get what you pay for. While the leave-in cream I mentioned above is more affordable, it is in no way comparable to using a hair mask. For a more budget-friendly option, go with this mango butter mask.
Use Hair Oil
Every few days, I spray my hair with Nuxe all-purpose dry oil before a shower to keep it moisturized and shiny. This French cult-favorite is nationally known as the go-to solution for keeping the facial skin, hair, and body soft and healthy.
Called L'Huile Prodigieuse in French, it is made of 97.8% natural origin ingredients. You simply spray it on your hair before a shower, wrap your hair in a warm towel, and leave it there for 15 to 20 minutes. Then, hop in the shower and wash it out with shampoo.
Let the Hair Air Dry
French girls almost always let their hair dry naturally. I remember a while ago, Jeanne Damas stated in an interview that she ties her hair in a low bun in the morning while making breakfast, letting it air dry into loose waves. I have tried this but my hair is too long and straight for it to work well. The center always stays wet while the outer layers dry!
In any case, I still love to air dry my hair in the summer, which is really good for it. Blow dryers are (obviously) super drying for the hair and should be used sparingly. I don't have much of a choice in winter if I'm in a rush to get out the door in the morning, but I love letting my hair air dry in the spring and summer!
French Girl Hair Cuts & Styling
French Girl Haircuts
How do French girls cut their hair? Well, it depends on many factors like the shape of their face, the texture of their hair, and their personal tastes. I live in Paris and I can say that the haircut I see most often is one with bangs that comes just below the shoulders. Of course, there are hundreds of different haircuts in Paris, but if I had to say just one, that would be it!
I don't know why bangs are so common here in France, but they certainly are. I believe it began back in the 60s, but there are so many women here who go for natural, curtain-style bangs.
Keep the Hair Dye Natural
French women almost never dye their hair a crazy color. It's always dyed a very natural color or just one or two shades away. French women mainly dye their hair to cover up grays and give their hair color more radiance. There are so many great hair salons in Paris, but I really love Coiffirst in Saint-Germain-des-Prés. They have large gold vintage mirrors and a beautiful courtyard.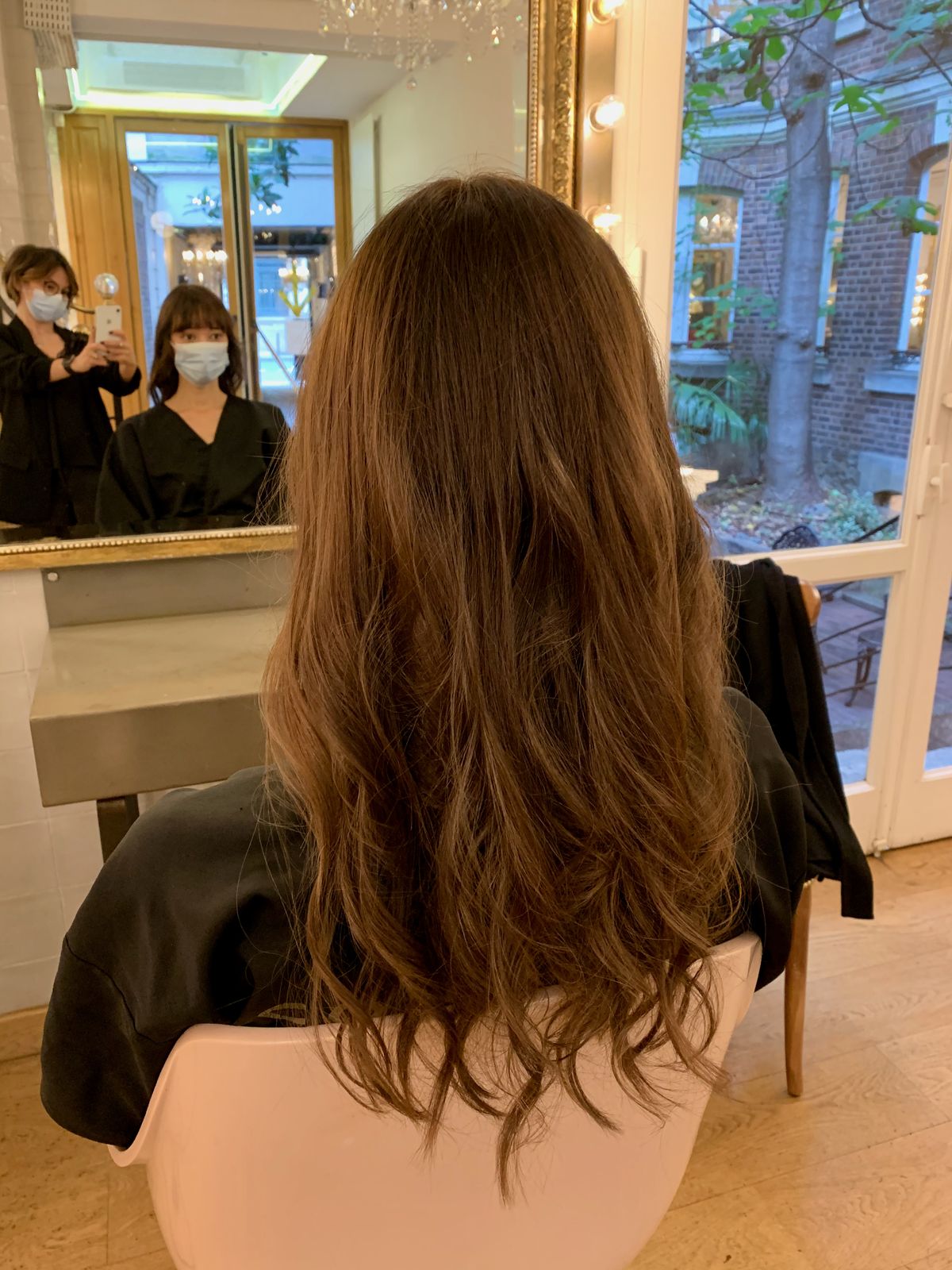 Natural Highlights
The one exception is highlights! French girls love putting natural highlights in their hair. The biggest difference is that they don't stray too far from their natural color. So a dark brunette wouldn't opt for bleach blonde highlights, for example. I'm sure you're starting to notice a theme here? Keep it natural 😉
Ditch the Hair Accessories
On the daily, French women rarely use hair accessories. All those trendy, colorful 90s hair barrettes that Americans are wearing nowadays just aren't seen as often here in Paris. I'll occasionally see a simple red headband or a hair scarf but not much more. Scrunchies (un chouchou) did have a moment here, too, but even that was more of an Instagram trend than a real-life thing.
Except for Tortoiseshell Hair Clips
The one traditional French hair accessory that I love is the tortoiseshell hair clip. I have several of them in different sizes, but I use the largest one most often, whenever I want to tie my hair up. I don't really use hair elastics anymore as these can get tangled and pull my hair out. Instead, I go for a brown plastic tortoiseshell hair claw.
Special Occasions
If you have a special occasion or an important work meeting, then try the low chignon bun. This classic French hairstyle is not worn on a daily basis but can often be seen on French actresses at movie premieres, on airline hostesses, and for special occasions.