Some of the world's greatest novels have come from France. If you want to become familiar with classic French literature, these are some of the best French novels to read. I've already shared the best French style books, but these novels focus on interesting stories and fantasies.
Classic French Novels
These historical French novels have stood the test of time and remain incredibly popular to this day! French girls almost always have a book in their handbag so if you want to adopt the French lifestyle, then picking up one of these books is a good place to start.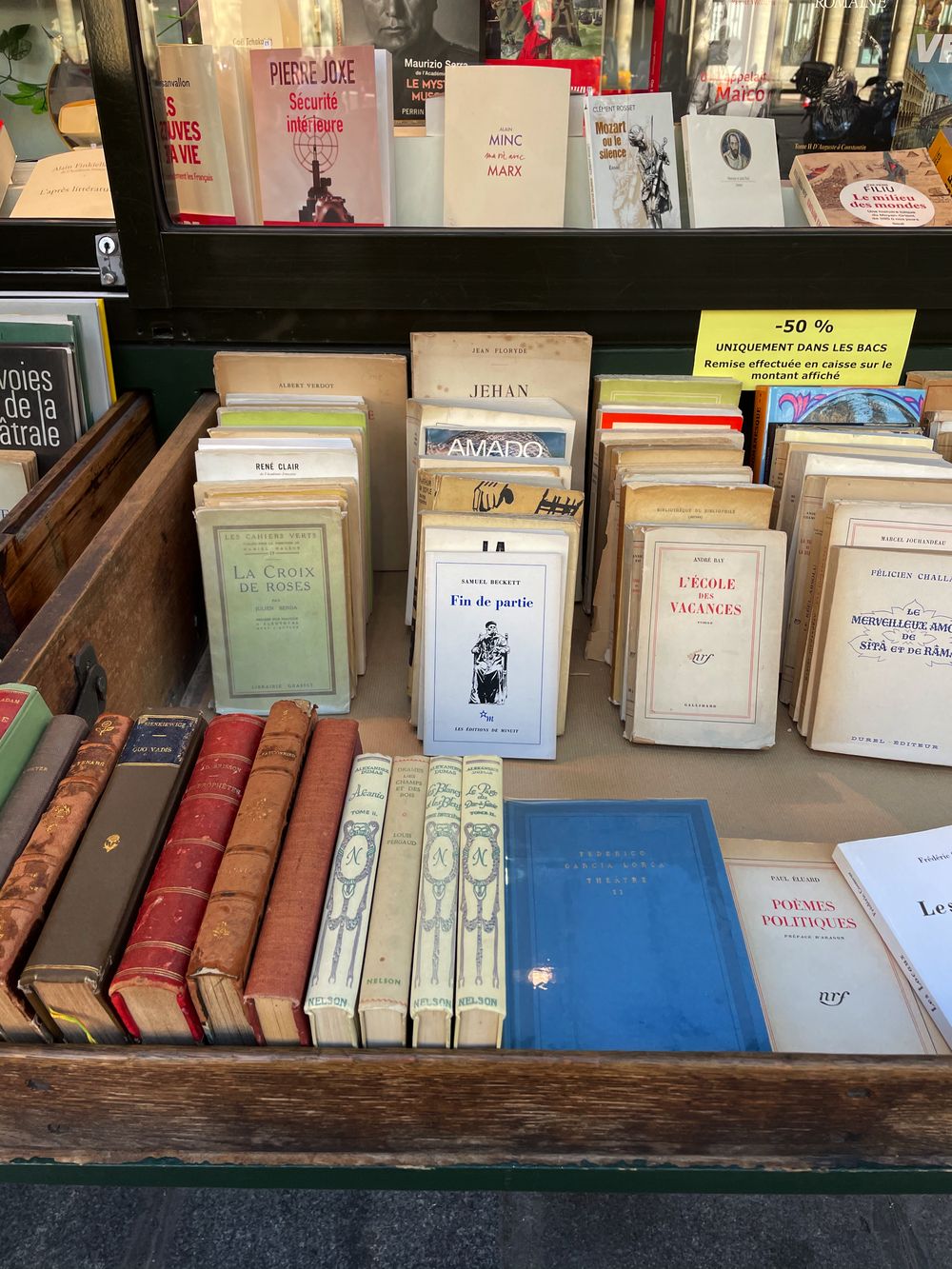 The Stranger – Albert Camus
This novel tells the story of a man named Meursault, who, after the death of his mother, kills an Arab man in French Algiers. His subsequent trial becomes less about his guilt or innocence and more about his indifferent attitude towards life. This book is a perfect introduction to Camus' philosophy of existentialism and the Absurd. Its unique outlook and thought-provoking narrative will encourage readers to contemplate the nature of life, mortality, and the human condition.
The Little Prince – Antoine de Saint-Exupéry
A heartwarming novella that unfolds the story of a young prince traveling from planet to planet, learning about life, love, and loneliness. This book, while simple on the surface, is full of profound and philosophical insights about human nature and relationships. It's a must-read for anyone who cherishes deep, timeless wisdom wrapped in a simple, touching story.
In Search of Lost Time – Marcel Proust
This monumental work delves into the complex nature of memory, time, and art. It is renowned for its vivid, stream-of-consciousness narrative style, exploring the subjective experiences of the protagonist. Reading Proust's masterpiece is an intellectual journey, demanding but rewarding, ideal for those interested in introspective literature and seeking to appreciate the beauty in everyday moments.
Bonjour Tristesse – Françoise Sagan
The story of a 17-year-old girl and her complicated relationship with her father and his lovers during a summer on the French Riviera. The novel, written when Sagan was only 18, is a remarkable exploration of adolescence, desire, and the blurred lines between love and lust. Its intricate character dynamics, evocative setting, and exploration of complex emotions make it a captivating read.
Journey to the Center of the Earth – Jules Verne
An adventurous novel that recounts the exploits of Professor Lidenbrock as he descends into a volcano towards the Earth's core. Verne masterfully blends scientific fact with imagination. If you're a fan of adventure, exploration, and science fiction, this timeless classic is the perfect entryway into Verne's imaginative world.
Candide – Voltaire
This satirical novella tells the misadventures of Candide, a naive young man living in a seemingly perfect world. It's a sharp critique of optimism promoted by philosophers of the Age of Enlightenment. Candide offers a mix of humor, philosophy, and critical commentary on society, making it a highly entertaining and thought-provoking read.
Les Misérables – Victor Hugo
A panoramic tale of 19th-century French society, the novel tells the story of Jean Valjean, a man condemned to nearly two decades of torment for stealing a loaf of bread. Hugo's work presents a powerful exploration of morality, redemption, and the human spirit. It's a must-read for anyone seeking an epic tale filled with memorable characters, intricate plotting, and profound social commentary.
The Hunchback of Notre-Dame – Victor Hugo
Set in 15th-century Paris, it tells the tragic tale of Quasimodo, the hunchbacked bell-ringer of Notre-Dame, and his unrequited love for the beautiful gypsy Esmeralda. The novel is a deep exploration of love, passion, and the human spirit, wrapped in a rich historical tapestry. It's a perfect read for those who enjoy heartrending tales and vivid, atmospheric settings.
Madame Bovary – Gustave Flaubert
This novel is about Emma Bovary, a doctor's wife, who, consumed by romantic novels, seeks excitement and passion outside her mundane married life. Flaubert's exceptional realism, his exploration of the dangers of romantic fantasies, and the tragic consequences of dissatisfaction make it a timeless classic.
The Lover – Marguerite Duras
The semi-autobiographical novel is set in French Indochina and tells the story of a young girl's illicit, passionate affair with an older, wealthier Chinese man. Duras' evocative and poetic writing style, along with her exploration of love, desire, and the social constraints of her time, make this novel an emotionally charged and unforgettable read.
Next, read the best French films you must see at least once.