I started to photograph the street style outside a few Paris fashion week shows this year as a way to practice my photography and of course, share the best Parisian looks I saw.
As one of the oldest Paris fashion houses, Chanel's runway show is always one of the most anticipated fashion events of the season. The majority of the attendees are impeccably dressed, some in head to toe Chanel. It's always interesting to see how women dress this very traditional, conservative brand up or down.
Here are a few of my favorite street style looks from the Chanel SS21 show!
Sophie Fontanel was one of the first people I spotted as the attendees began to arrive. Sophie is a very famous French journalist who writes about life as a woman in the world. Her Nike kicks were quite the surprise to see at this show!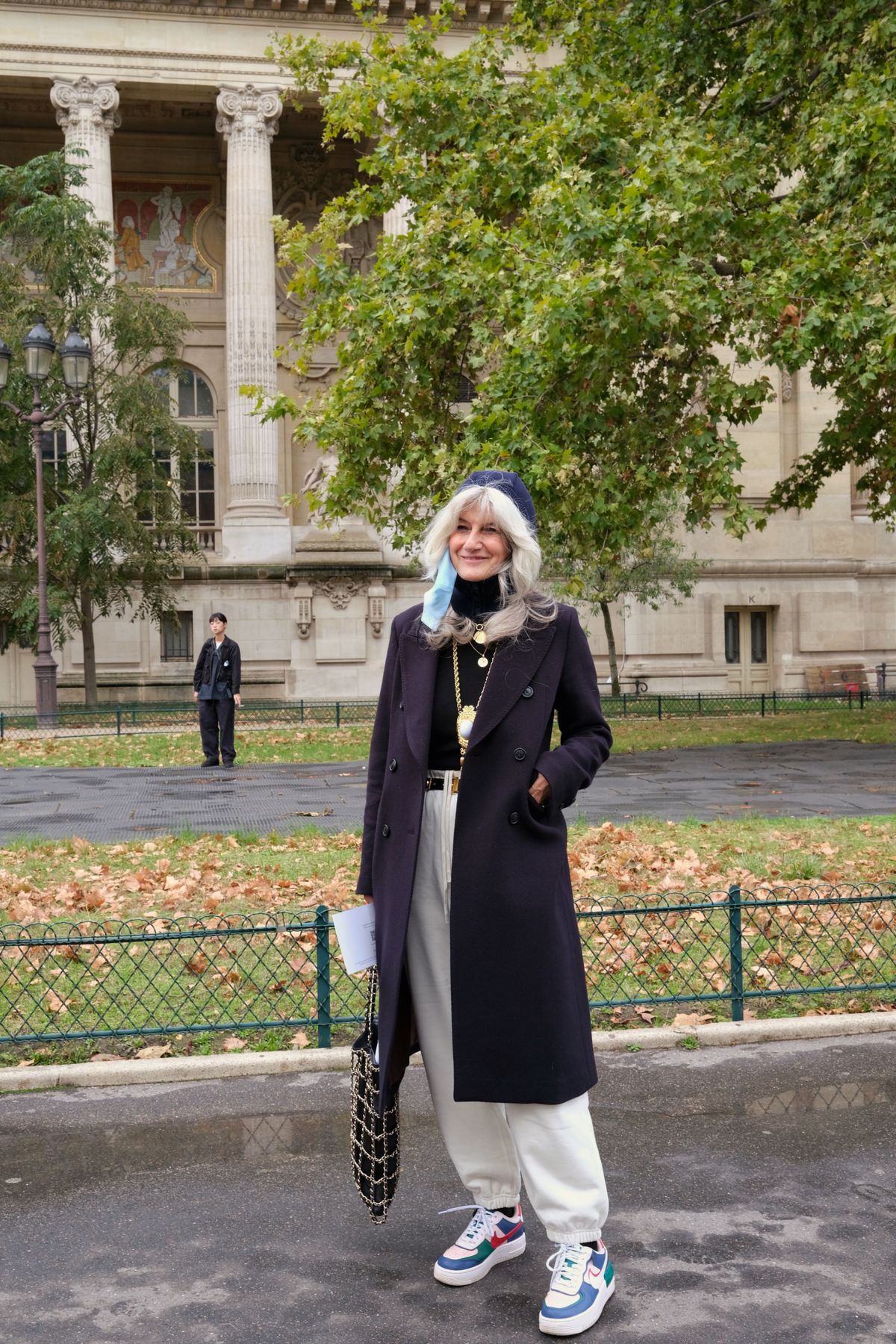 Leia Sfez arrived in a beautiful two-toned Chanel jacket. One half of the tweed jacket was a snow white while the other was pitch black. Leia is pregnant and she pulled this look off with a simple black undershirt, black leggings, and black leather boots with a brown foldover from the current Chanel Fall/Winter 2020 collection. A black leather quilted Chanel bag was the perfect accessory to complete the look.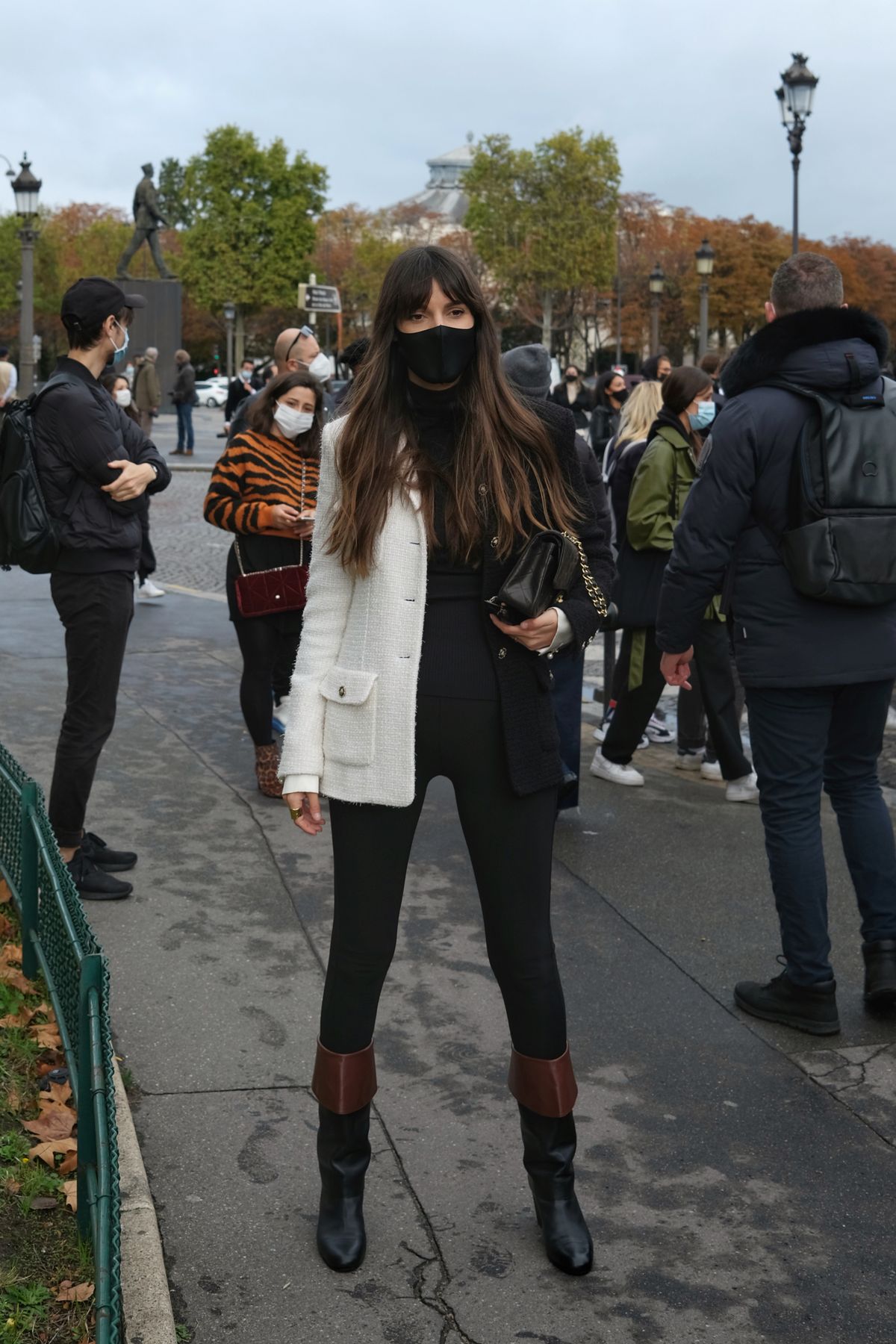 I don't know who this woman is, but her look was so chic. She wore a loose beige trench coat, ivory chemise, and a classic black quilted leather Chanel bag.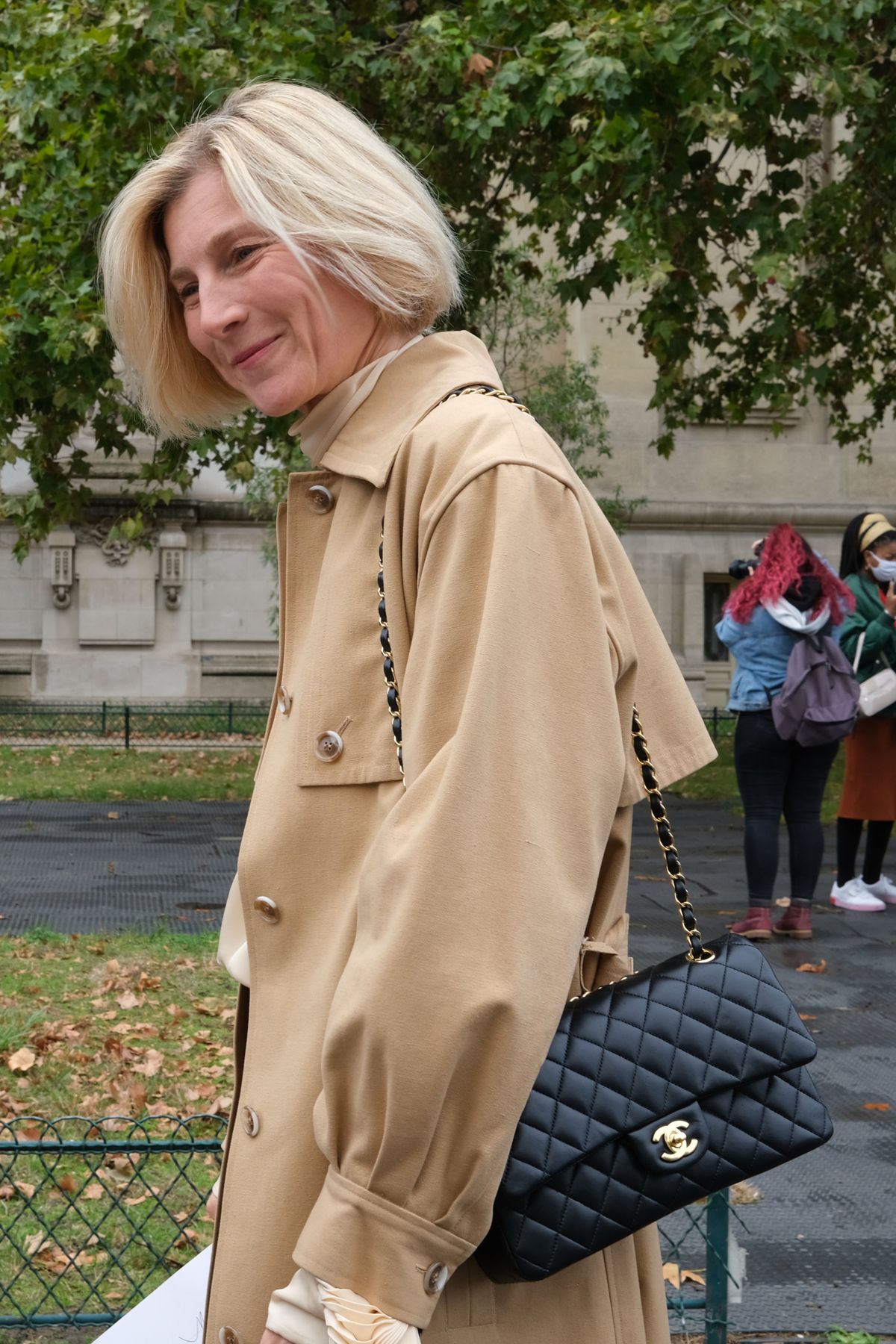 I loved Geraldine Saglio's look! She is the editor at large of Vogue Paris – and it shows. This was a very Parisian fashion editor look. A black Chanel tweed jacket was paired with loose, ripped jeans, and black stiletto booties. Another win for the 'Classic' black quilted leather Chanel handbag!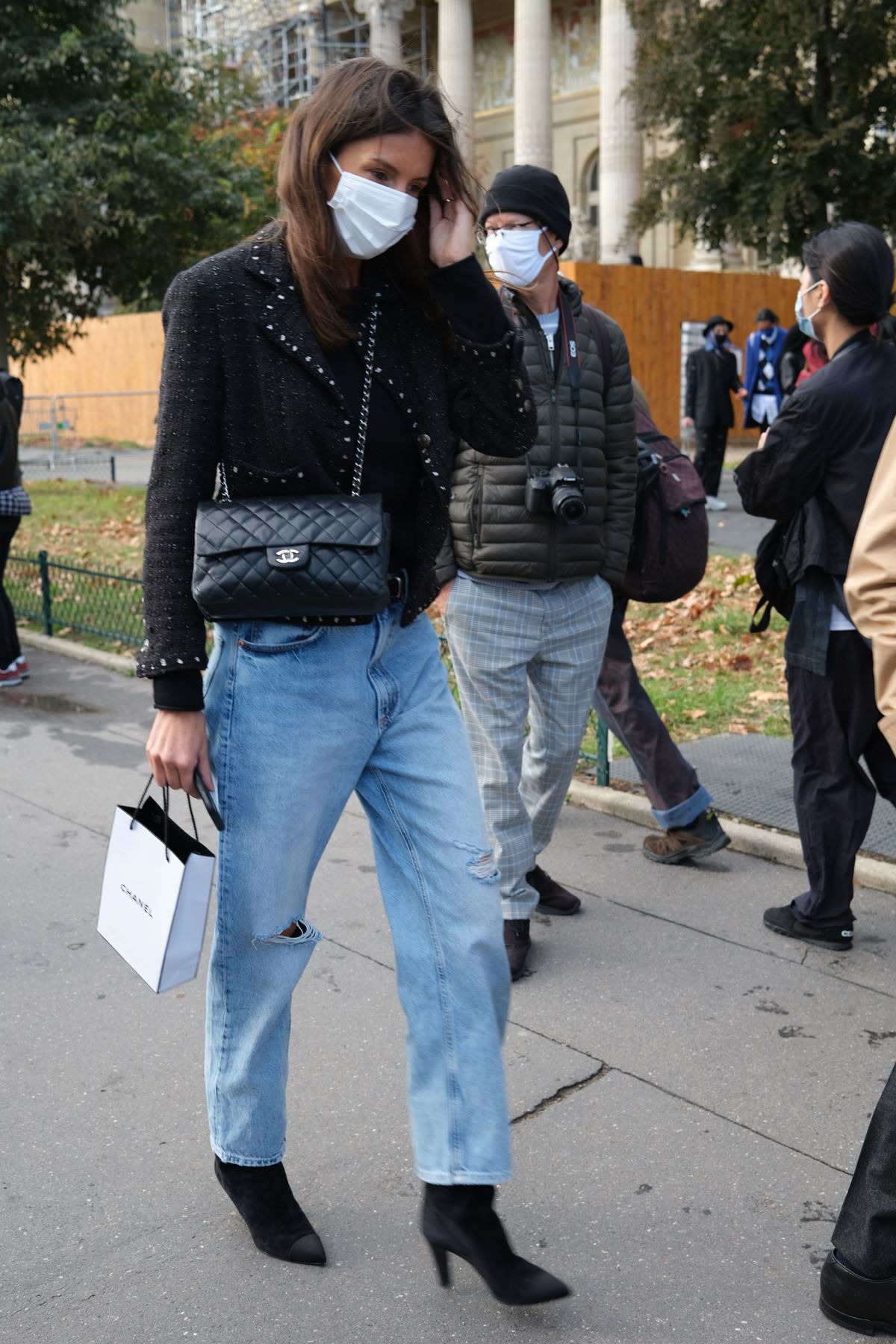 Eugénie Trochu, another Vogue Paris editor, looked gorgeous at the show. I didn't see her until the last minute so this shot isn't great, but her whole look was perfect. She wore a fringed black leather jacket over a striped shirt with straight leg jeans, a black leather belt, and black leather booties. Her hair was partially tied back with a black ribbon bow – very Chanel!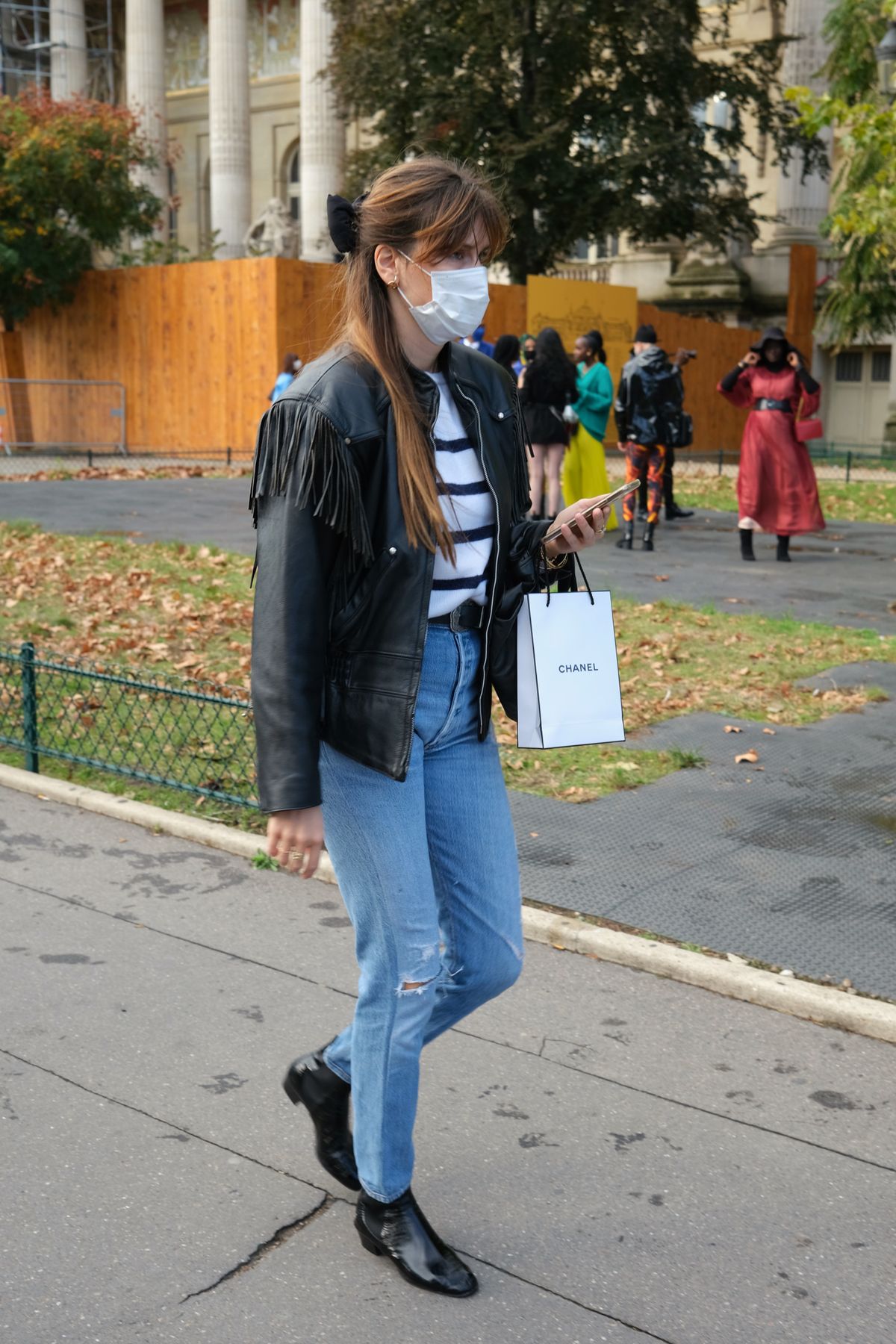 Camille Charrière's all-black look was a huge hit on Instagram and I can see why. Her very Chanel tweed black button-up jacket and black shorts over sheer black polka-dot tights were a winning combination. Her pointy toed black cap-toe slingbacks and mini black quilted Chanel bag tied this look together seamlessly.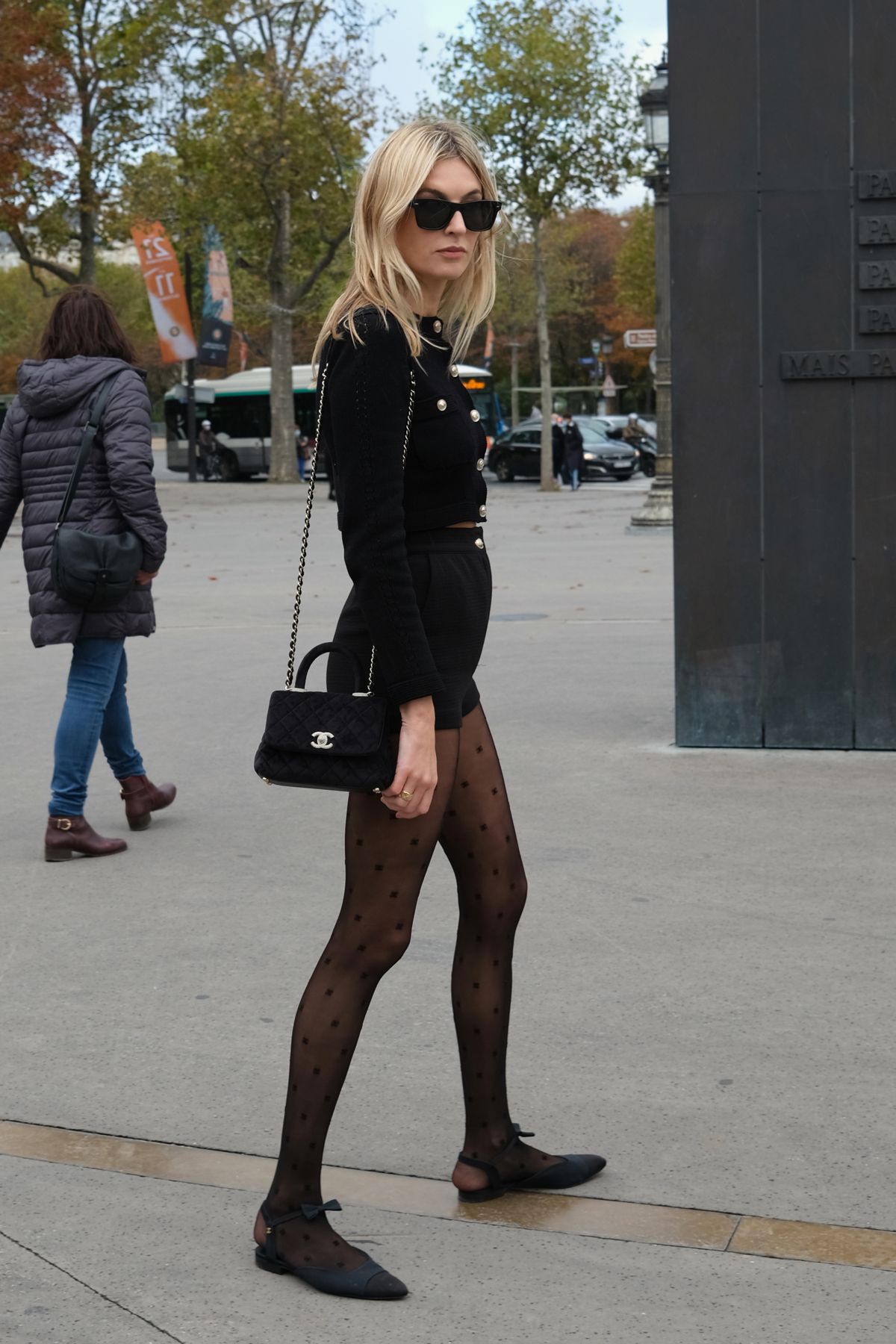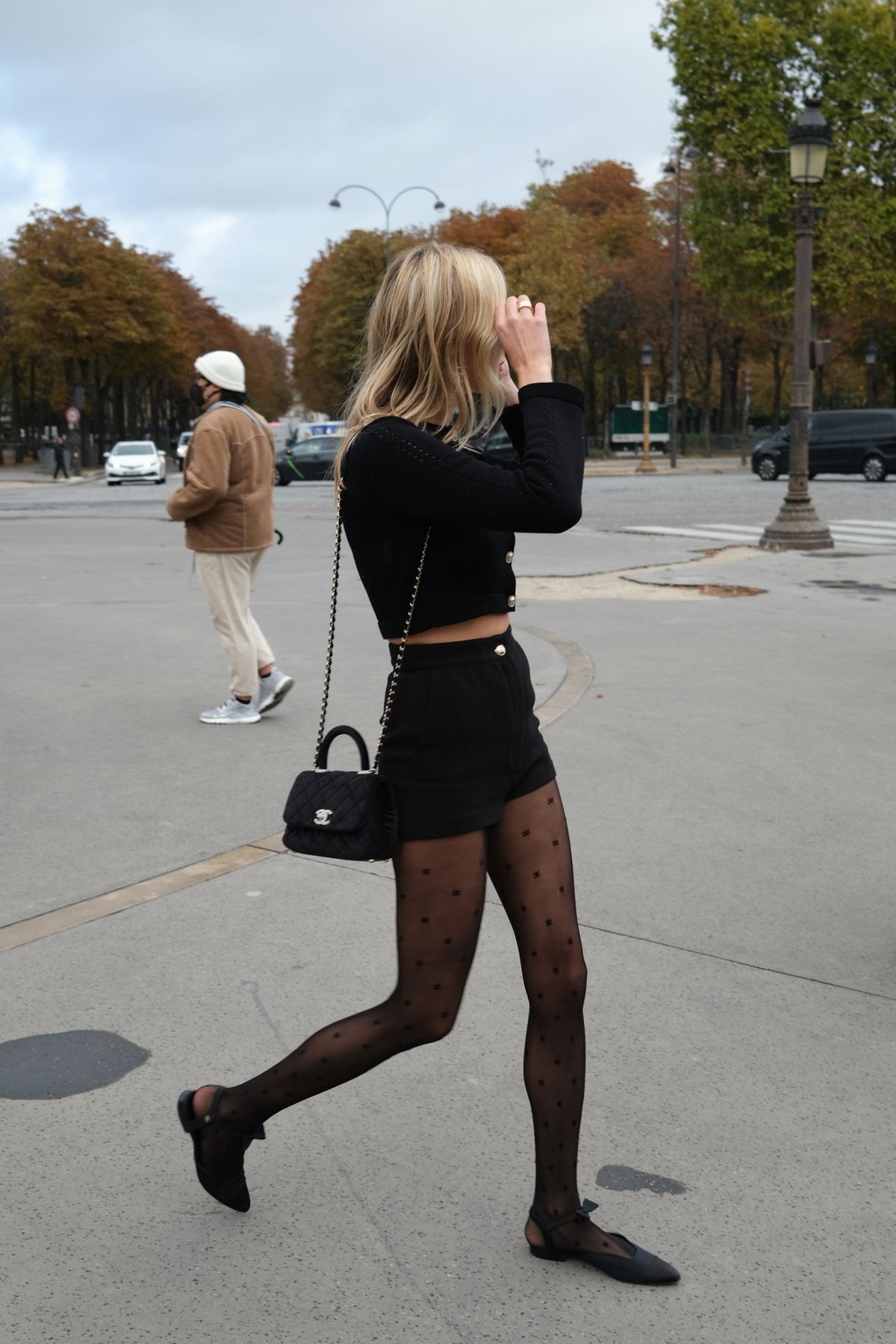 Monica de La Villardière, fashion journalist, kept things cozy in her shearling jacket paired with black jeweled pants.
After the show was over, some of the models exited and posed for street photos in their own outfits.
Here is model Kim Schell wearing a Prada jean jacket and wide leg pants.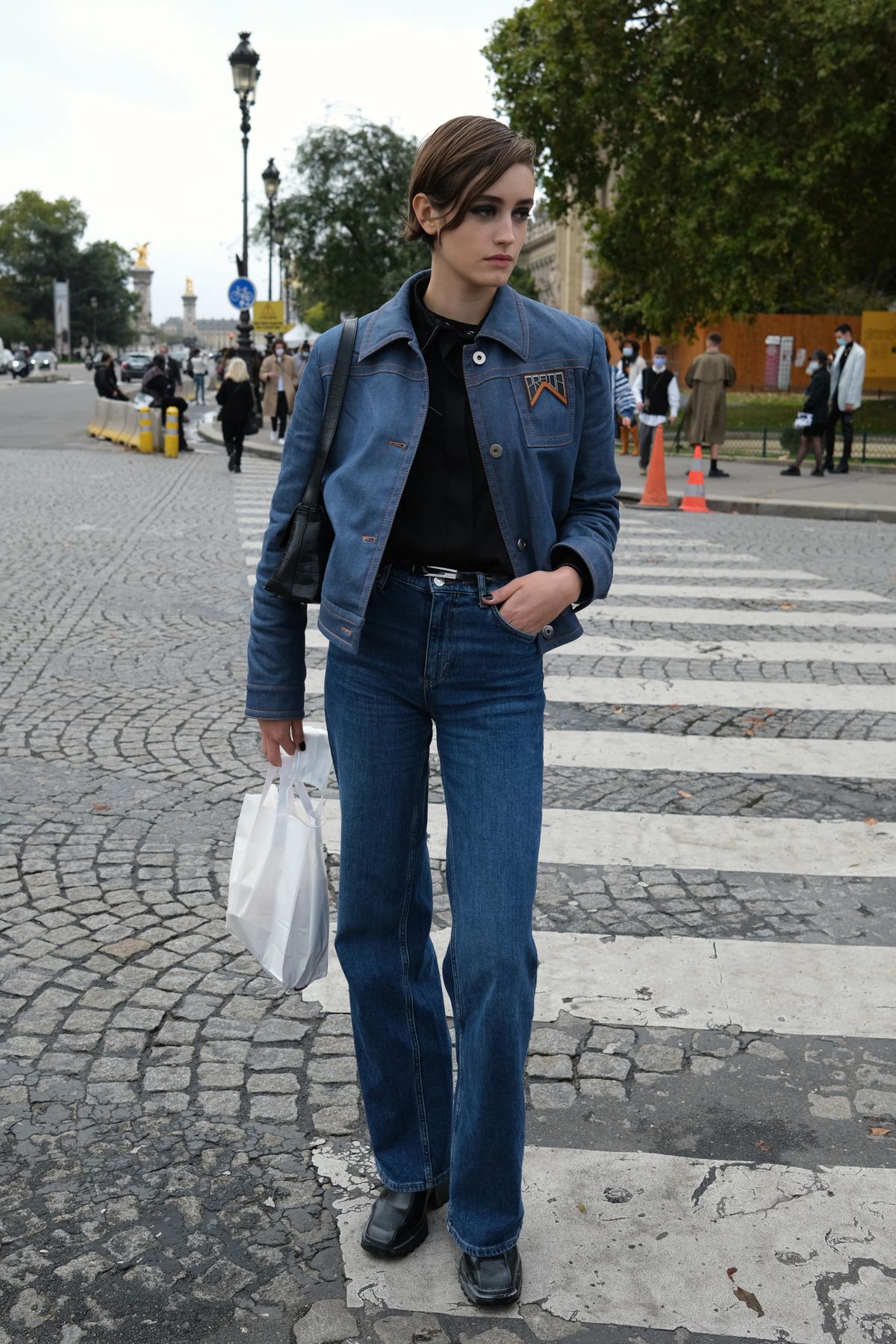 Model Louise de Chevigny had some serious French style with her brown plaid winter jacket, light blue jeans, black woven leather handbag and zippered black leather boots.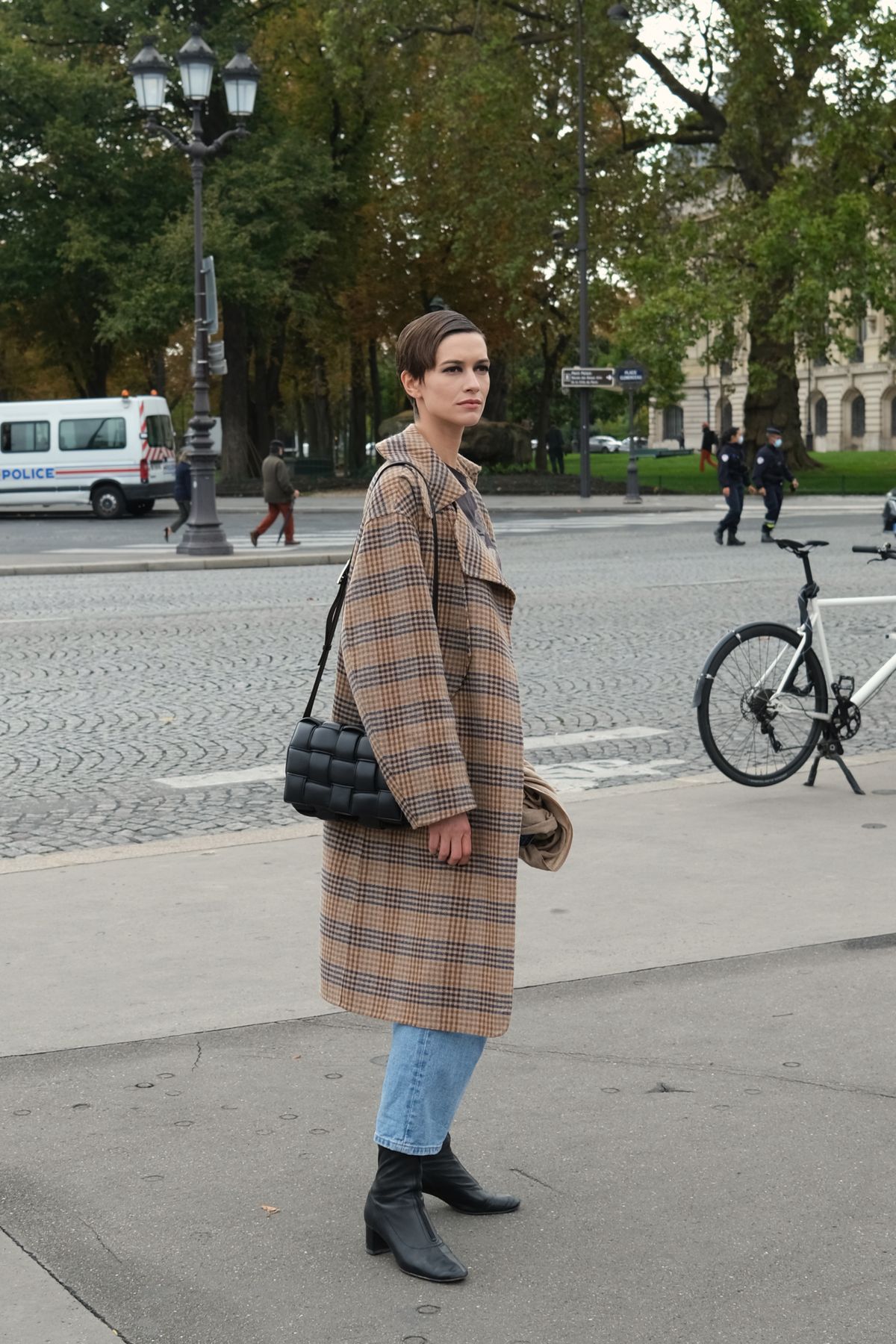 Leelou Laridan wore black skinny jeans, black combat boots, and a long gray winter coat for her post-Chanel model-off-duty look.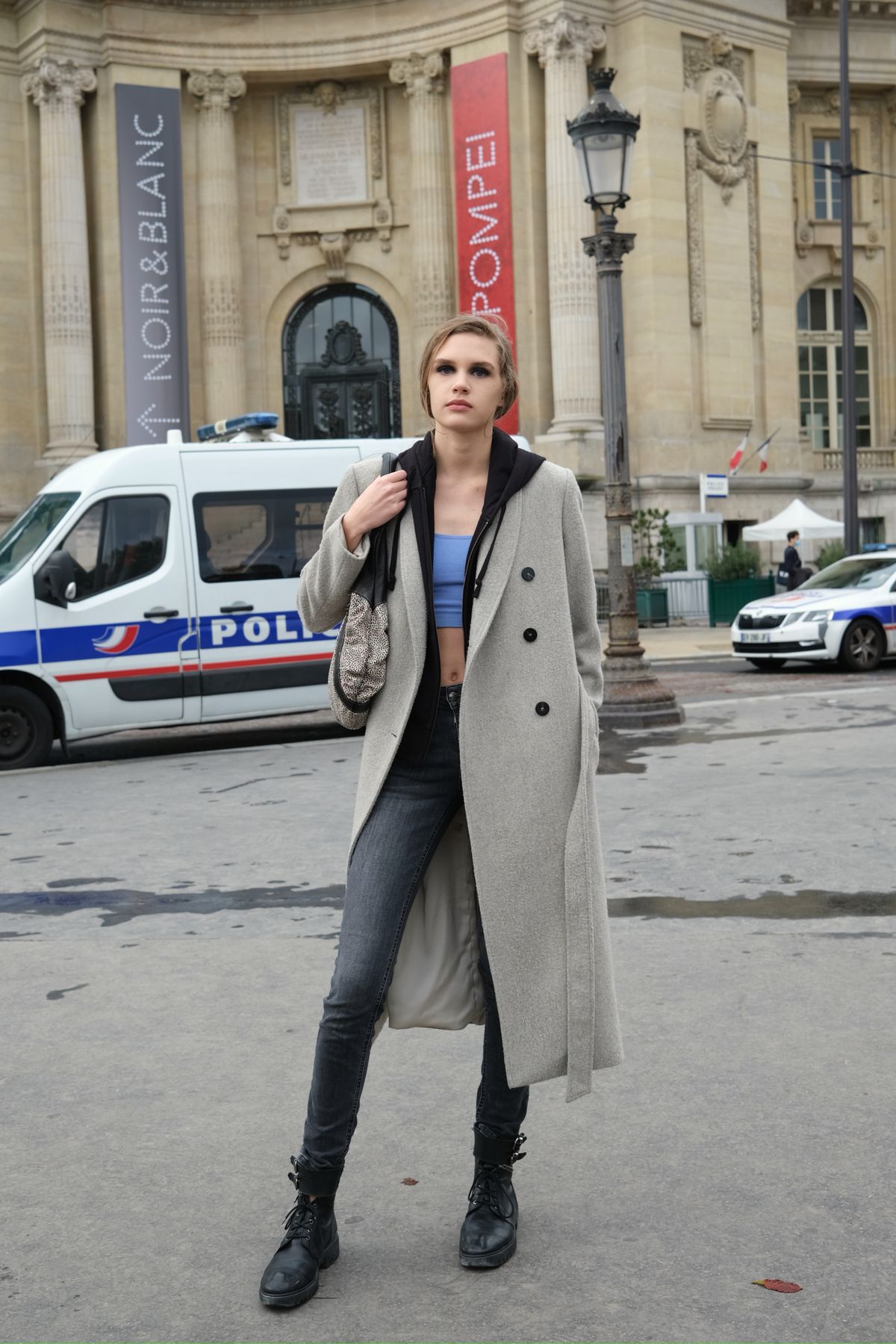 Model Mathilde Henning wore a classic black leather jacket over her all-white look.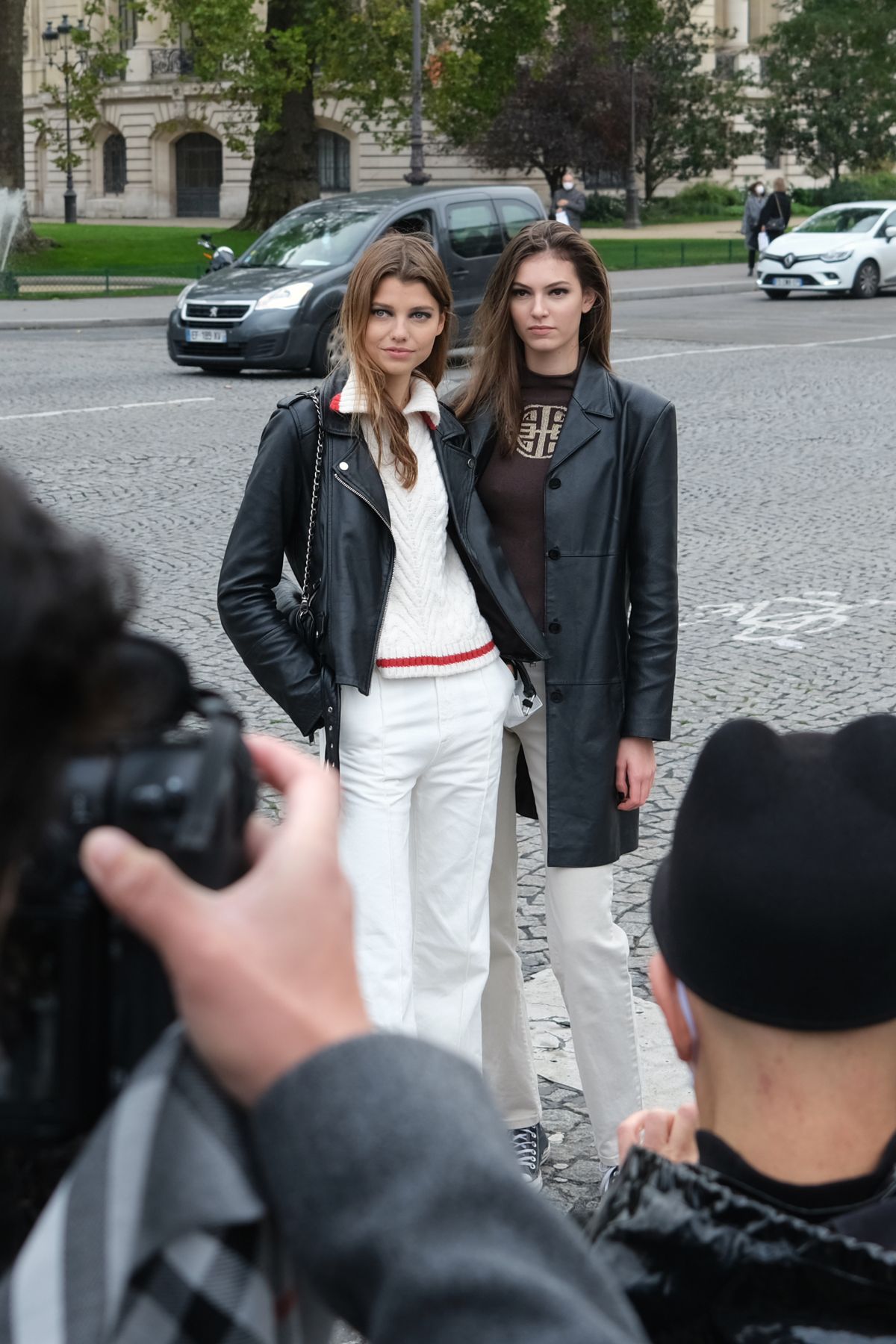 That's it! Which look did you like the most?