I have needed a new wallet for years. After looking at a few different stores, I settled on the idea of buying a Celine wallet. I love the minimalist aesthetic of the brand and their wallets always looked chic and elegant behind the glass casing I always saw them in at the store.
My wallet was quite large and I was looking for a smaller model. The Celine Triomphe Compact wallet stood out to me for its tiny size. This particular wallet has a detachable zipped card holder which can be snapped on or off as needed, a feature I really liked. The design is super simple and sleek. There is only a gold "Triomphe" symbol which helps you fasten the wallet closed.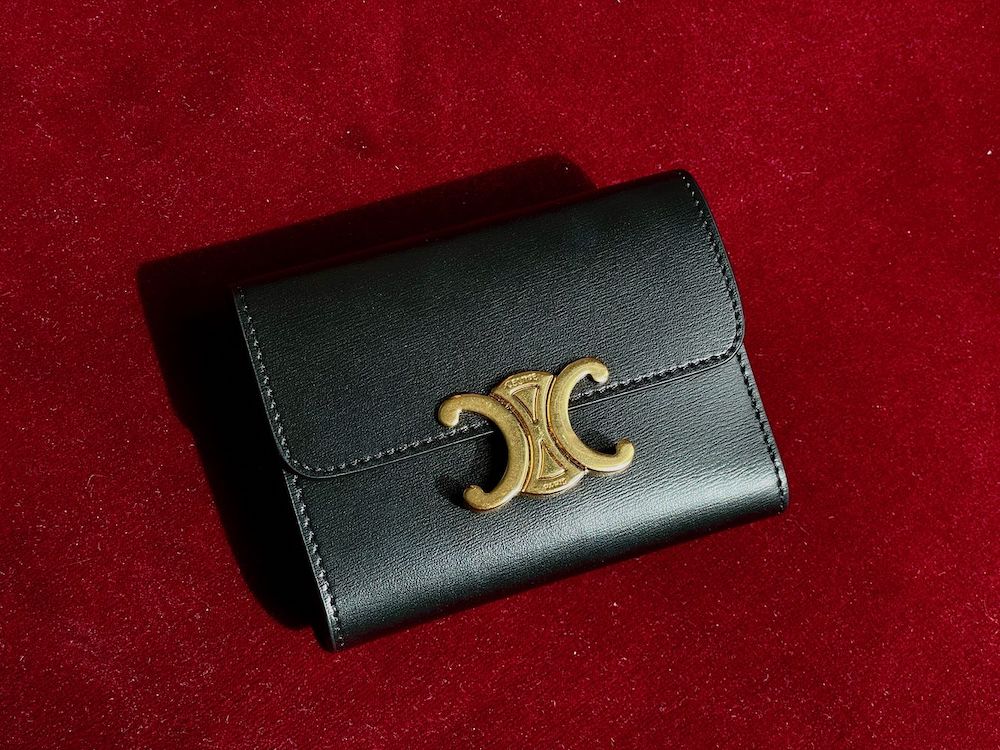 As I was looking at the wallet inside the Avenue Montaigne Paris store, the salesman was kind enough to tell me a funny story about the design and why the Triomphe logo appears on Celine handbags and wallets.
Apparently, Céline Vipiana herself was driving through Paris when she had a small accident near the Arc de Triomphe. While waiting, she took a closer look at the chains that surround the famous Parisian landmark. She noticed this particular emblem was stamped onto all the chains and decided to adopt it onto her designs.
So, the associate explained, carrying this wallet with this design means you are carrying a small part of Paris along with you! I thought that was a cute story, and sure enough, he googled the chains for me and showed me the little logo he was talking about!
I had always assumed that the Cs were meant to stand for Celine, but no, they are inspired by the city of Paris itself!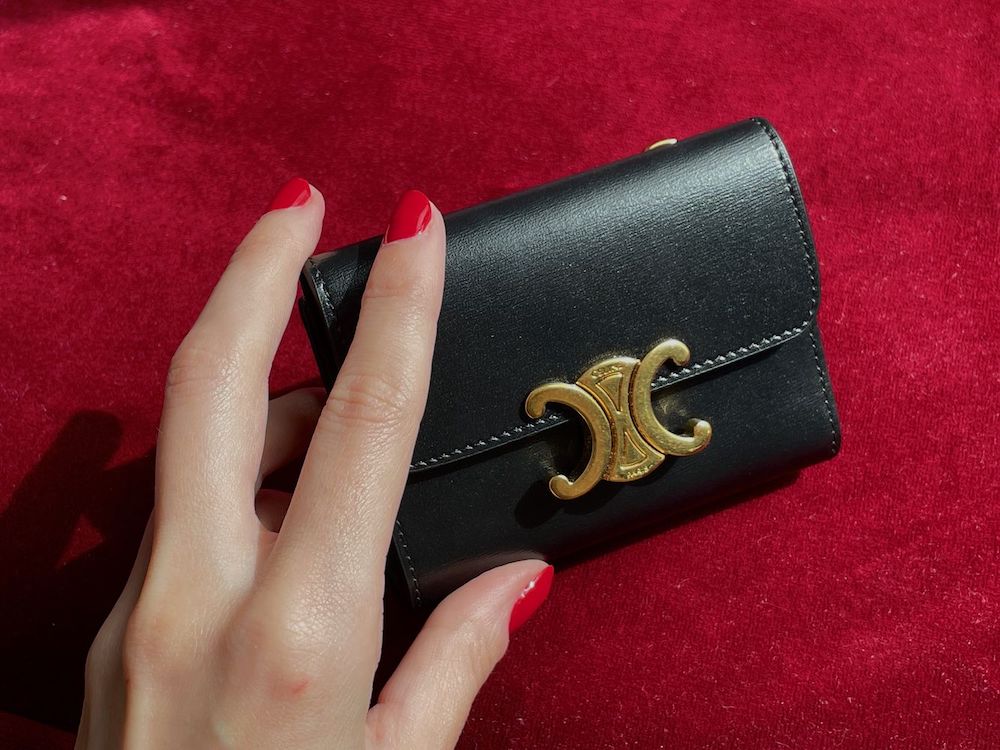 What I Like About the Wallet
Now that I've owned the wallet for a few months, I'll share my thoughts. I love how small and compact this wallet is. It's precisely what I was looking for.
I also love that the small coin case can be detached from the bulky part of the wallet. I was planning on buying a separate card case, but now I don't have to! I like taking out a card case with me in the evening when I don't need my entire wallet. Evening bags are small and it's more practical to take a small card case rather than a full-sized wallet.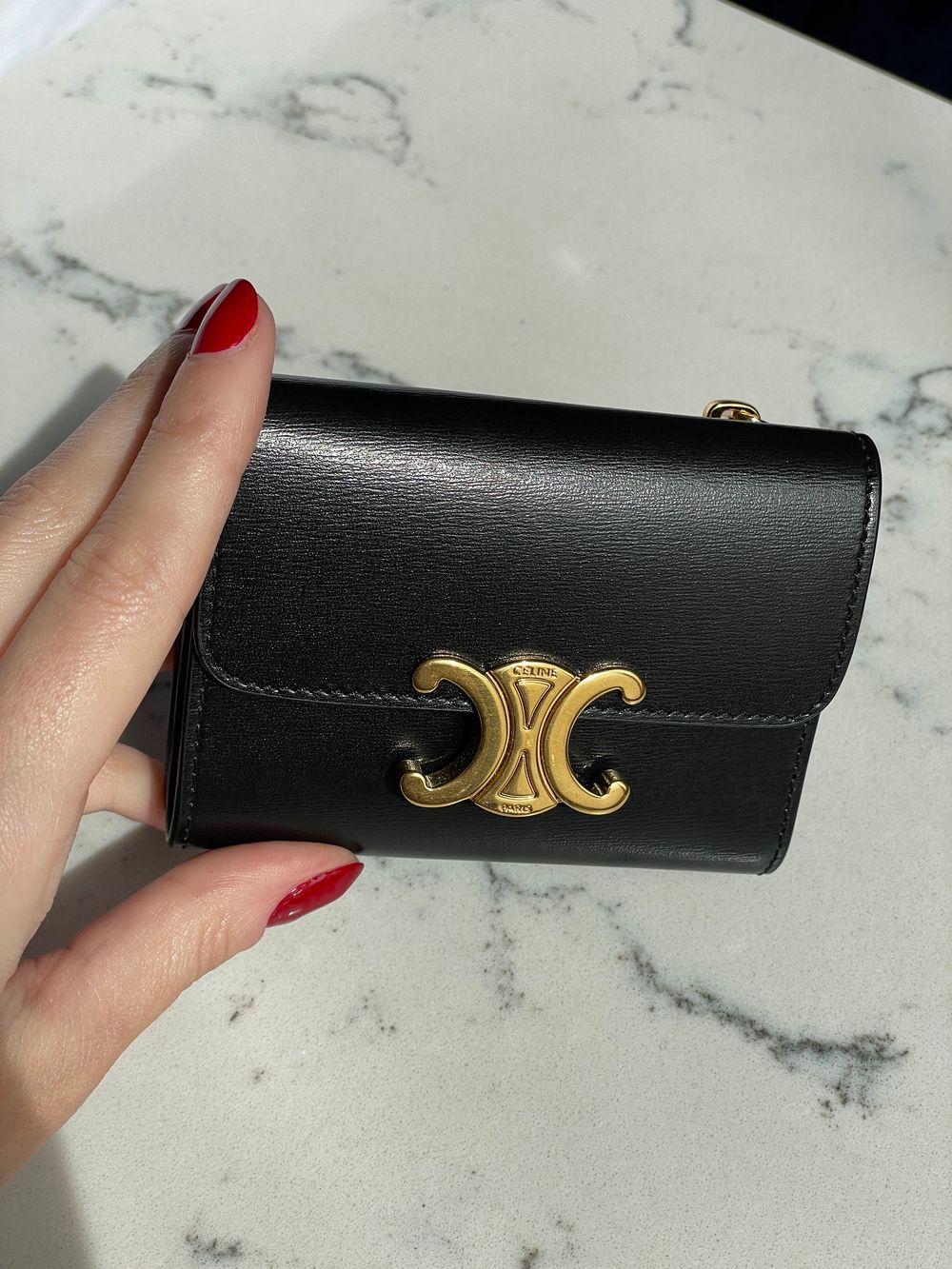 What I Don't Like About this Wallet
There are a few cons to the design of the Celine Triomphe Compact Wallet. For starters, it's sized for euros, not dollars.
I don't mind this as it's become my "France wallet," used exclusively in France, but if you're American, you'll realize that the dollars you put in the cash slot will stick out at the ends.
The wallet is meant to hold euros which are a few centimeters shorter than dollars, and that makes all the difference. Euros fit in perfectly while dollars stick out on the long side.
The wallet can still close with dollars, and they are protected (they stick out the long way which gets closed over anyway) but it's obvious this wallet was designed for euros.
Secondly, the leather is extremely fragile. I've already made a dent in the wallet by accident and I'm not even sure how.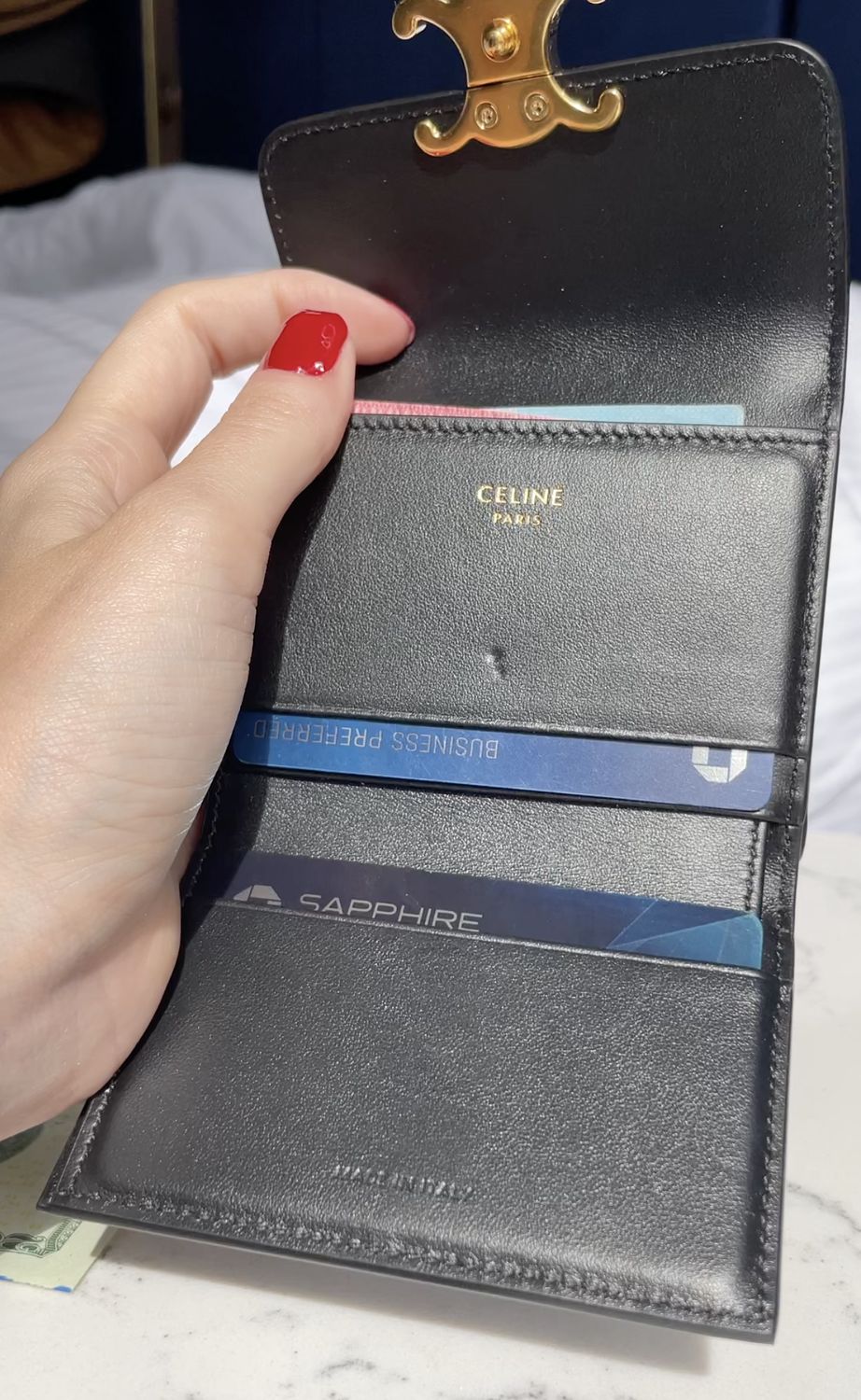 The wallet itself is really compact, maybe a little too small. I have a hard time getting my cards in and out of the slots because the design is ultra-tight. I do fill it with cards, and perhaps it would do better with 1 or 2 cards but this defeats the purpose of having a wallet if you ask me!
Lastly, I wish the coin purse that attaches to the back had more than one slot. It has one card slot and one zipper which means it doesn't hold a lot at all.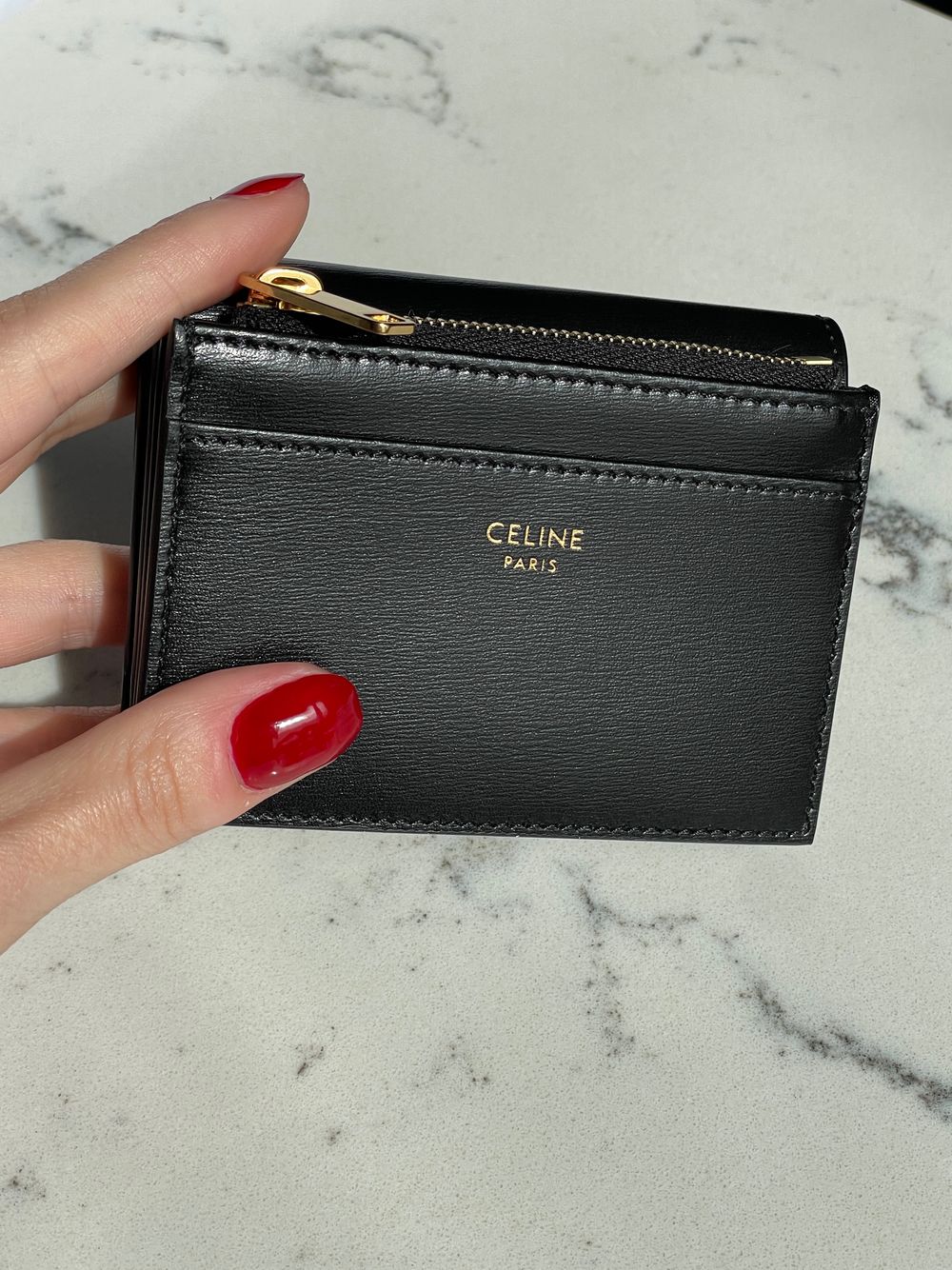 ---
Overall, the Celine Triomphe Compact Wallet is incredibly elegant and sophisticated, especially in black leather so I'm happy with my purchase!
Shop via 24S/Celine.