My latest handbag acquisition in Paris is the French girl chic Polène Numéro Dix bag. The Polène Number 10 bag is a hobo style, crescent moon-shaped bag that can be worn crossbody or over the shoulder because it comes with two different straps.
The Numéro Dix is a minimal chic French girl handbag that I absolutely adore. Polène says the bag is inspired by the equestrian world and saddlery which is evident by the leather loops on either side of this half-moon bag.
I got the Number 10 bag in black grained leather with black stitching and here are my thoughts on this chic handbag!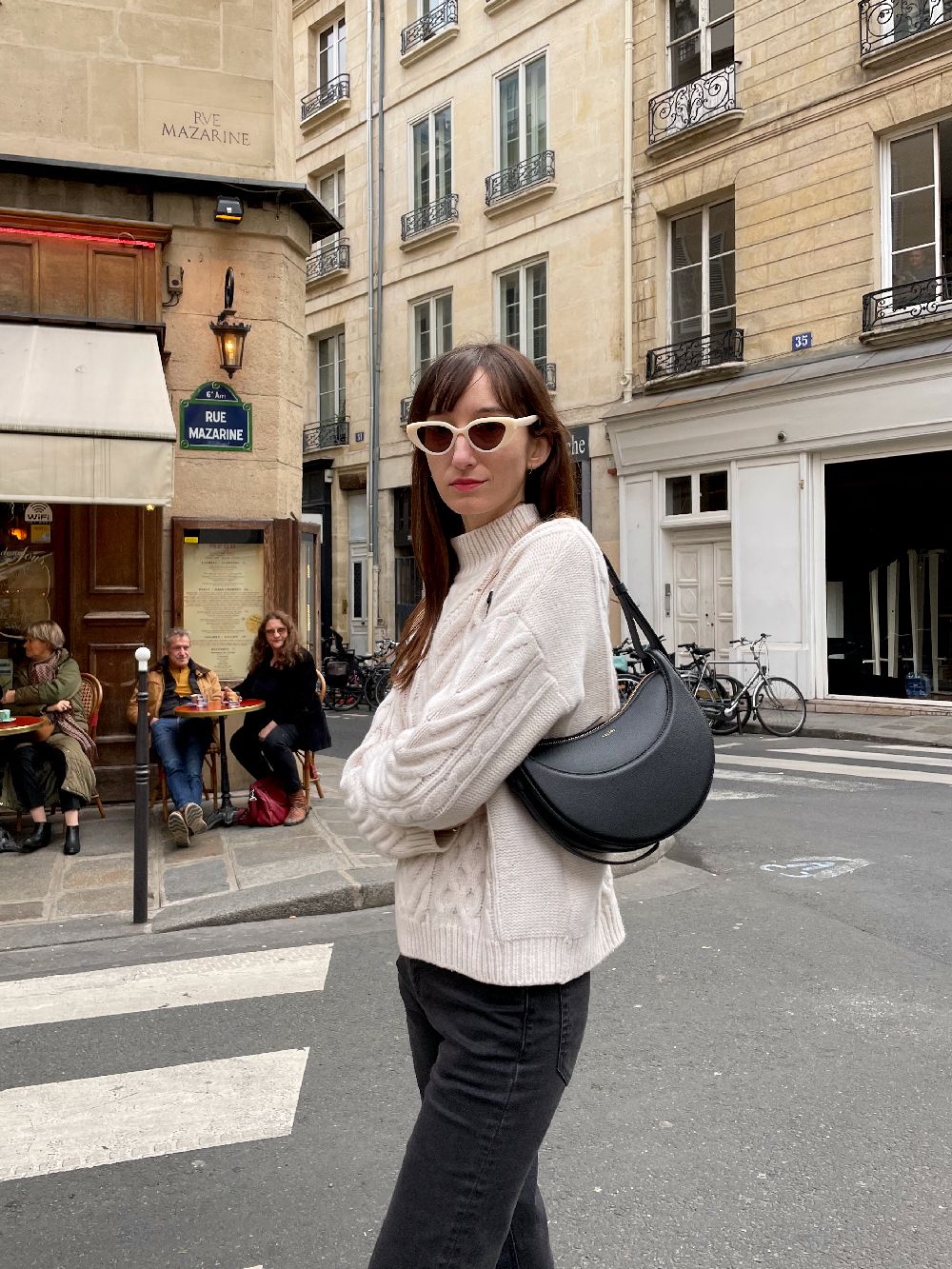 What can the Polène Numéro Dix Bag hold?
The Polène Numéro Dix bag is a small to medium sized handbag that can hold your everyday essentials, but not much more. It can definitely hold a notepad, a wallet, a phone, keys, and a few small makeup items, but not much more than that. Even though the bag itself is somewhat large, it functions as a small bag because of the curved shape. The round edge of the bag means there's less room than you would have with a rectangular-shaped bag.
Personally, I bought this bag because I wanted a short shoulder strap handbag that I could use in the evening, hence why I chose black leather!
The bag measures 24.5 cm wide by 20.5 cm tall and has a depth of 7.5 cm. The two straps measure 106 cm and 138 cm long.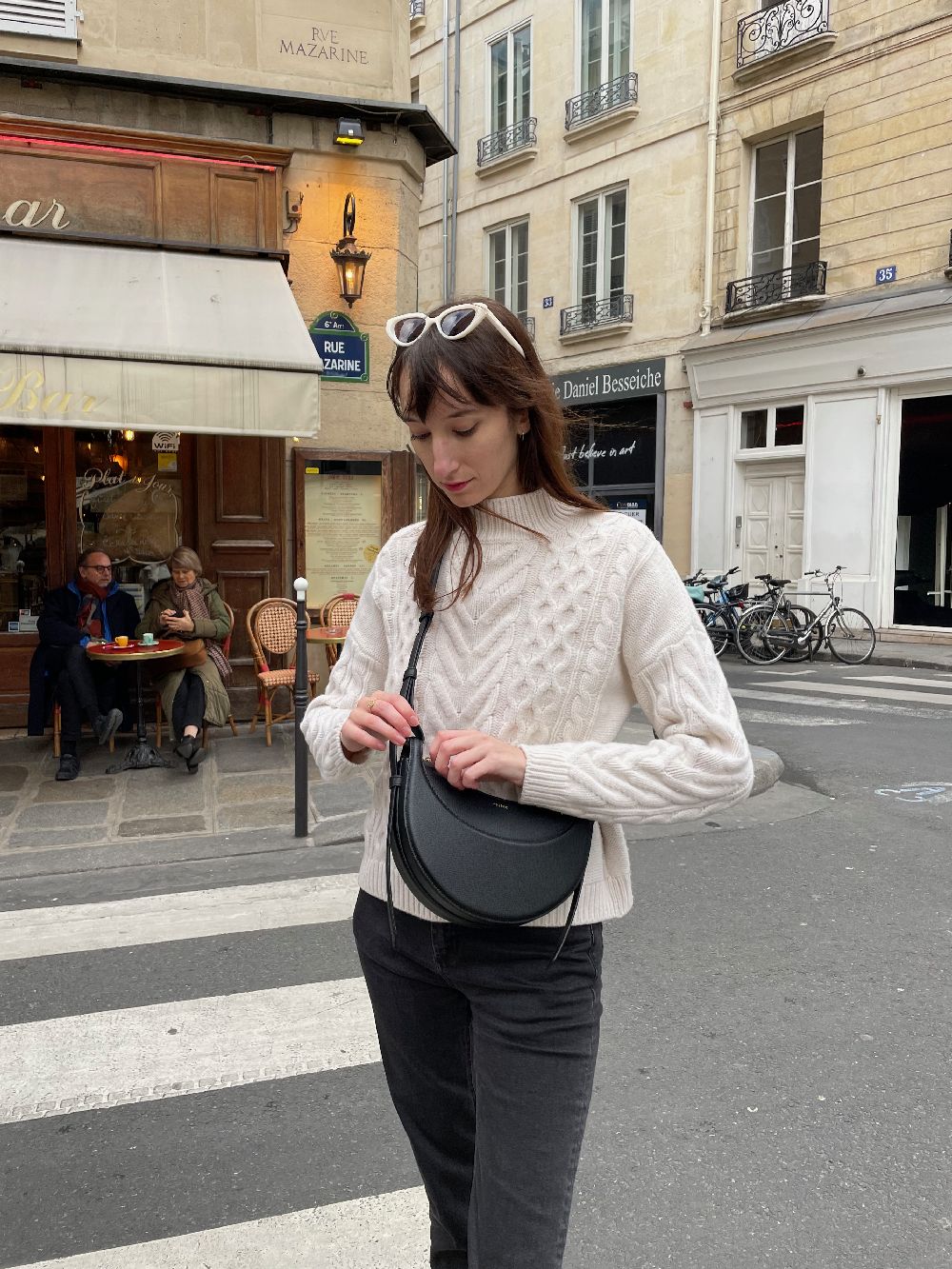 Colors
The Number 10 bag comes in two shades of black: smooth black leather with white stitching on the edges, or textured black grain leather with black stitching. I got the latter. Both are equally beautiful, so it's really up to your preference which stitching and surface feeling you prefer.
The Numéro Dix bag comes in 8 different colors. Aside from the two black shades mentioned above, you can get this bag in smooth cognac or beige, and grained Bordeaux, camel, taupe, or white (craie).
Polène is one of my favorite French handbag brands. They make quality leather handbags at incredibly affordable prices. Each bag is designed by a local team in Paris and made by artisans in Spain.
Shop the Polène Numéro Dix bag in black here.
About Polène
Polène is a chic new French handbag brand which is actually worn by French women. The French company has exploded in popularity in France due to selling high-end handbags at affordable prices. It's like you're getting a luxury leather handbag for 75% off. The brand was founded by three French siblings Mathieu, Antoine and Elsa Mothay who named the brand after their Normandy country house. Polène ships to the United States or you can shop from their central Paris boutique.
Polène Handbag Reviews
Read all my Polène handbag reviews here:
Polène Numéro Un / Number 1 Bag
Polène Numéro Un Nano Bag
Polène Numéro Sept/Number 7 Bag
Polène Numéro Douze "Cyme" Mini Bag
Polène Numéro Douze "Cyme" Tote Bag
Polène Wallet