The sun is shining and the weather's great – it must be summer! Here are my favorite French girl summer tops to wear this year whether you're in Paris or elsewhere in the world… A good collection of tops is a must for your summer wardrobe. These tops are super easy to throw on with a pair of jeans or a cute skirt and freshen up your look.
Summer Tops
I absolutely love French girl style and I curate my wardrobe around this look. Here are the French style summer tops I have my eye on!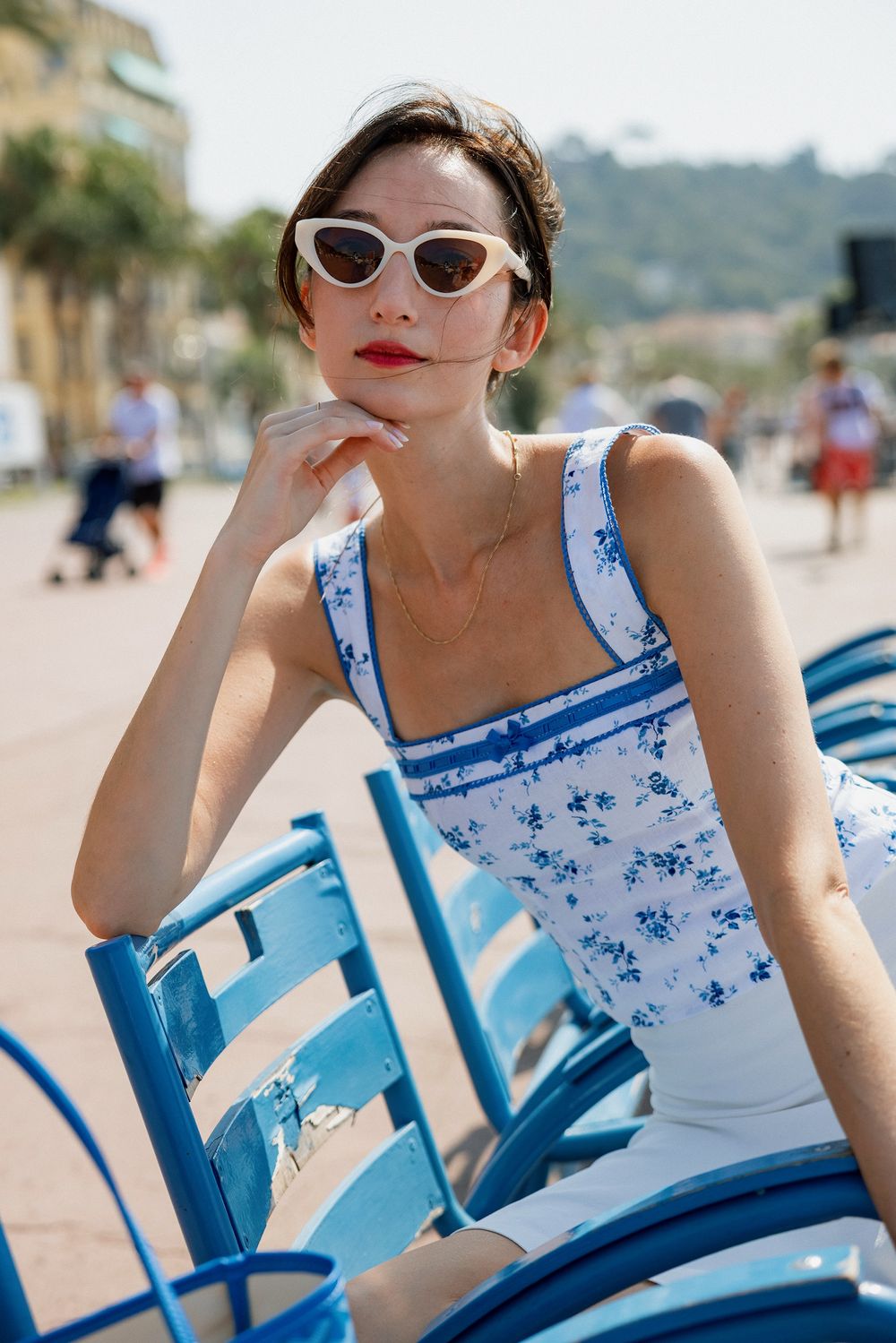 Tank Tops
Tank tops are a must for keeping cool during the hot days in France. Since this is a more revealing top, I tend to wear tank tops with pants in Paris. If I'm near the beach, then I'll wear them with shorts, of course!
Gingham Tops
Gingham tops are a must if you want to get chic French girl summer style. Gingham is a classic French girl clothing pattern used on many different pieces of clothing.
Crochet Tops
Crochet tops date back to the 1960s and they're very much still in style today. Crochet tops are great for vintage summer style, à la Jane Birkin.
Floral Tops
Floral print tops start appearing in spring and stay in the French girl wardrobe throughout the summer. From bright colors to subtle pastels, there are lots of cute summer floral tops you can buy to get French girl summer style.
Graphic T-Shirts
The most surprising top on our French girl summer tops list is probably the graphic t-shirt! I have seen Jeanne Damas wear these shirts with casual jeans, woven shoes, and a straw handbag during summer. It's a cute and casual French girl summer look!
Striped T-Shirts
The classic marinière striped shirt is a must-have year-round, but especially in summer! You can pair them with white pants or light wash jeans.
Silk Tops
Silk tops are great for work meetings, cocktail hours, and other special events you may attend during the summer. Wear them with a black skirt or pants.
White Cotton Tops
Puffed sleeve white cotton tops are a classic summer top to own. The French really love traditional English embroidery shirts and designers like Isabel Marant and Chloé have made beautiful tops using this technique.
Linen Tops
Linen is the eternal favorite summer clothing material! No matter what style of top you choose, make sure you have at least one or two summer linen tops!
Crop Tops
Crop tops are a staple in the French girl summer wardrobe because they help keep you cool on the hottest of summer days. These kinds of tops are best for wearing in the countryside of France, near the beach.
I hope these French summer tops will help you put together the best French girl summer outfits this year!