Although I primarily write about fashion, I thought it would be fun to share with you guys the most iconic French brands of all time spanning many different industries. As much as I love fashion, France has some pretty amazing exports in so many other categories – like food, wine, home goods, lifestyle products, jewelry, travel, and so much more! I feel like anything that is français in the States is automatically synonymous with luxury, high quality, and chic.
Iconic French Brands
So what do I mean by iconic? Well, for me, 'iconic' means widely known and synonymous with the respective industry. These brands have successfully expanded internationally and many of them are household names in the United States and around the world! This list isn't based on revenue or anything quantifiable, but just my general sense of how well known the brand is outside of France.
Here are the brands I think you should keep an eye on from the fashion world of France and beyond!
Food & Beverage
Let's start with the food and beverage category. You could probably make a solid argument that France is better known for its food than its fashion! Several French food and beverage brands have managed to expand internationally and bring a taste of French cuisine to the rest of the world.
1. Evian
Evian was such a simple luxury for me to drink in the States. It's funny because here in France, it's really just another water brand and way cheaper! Evian makes mineral water that comes from several sources near Évian-les-Bains, France.
2. Ladurée
Without a doubt, Ladurée is the macaron brand to know if you love French sweets. Ladurée began as a Parisian tea room in 1862, until one day Pierre Desfontaines came up with the idea to join two macaron shells with a ganache filling, creating the delicious macaron we know today.
3. Bonne Maman
Bonne Maman is a French food brand primarily known for its fruity jams, but also various other snacks and cookies. The brand was launched in 1971 and produced widely despite having a homemade feel. The jams' handwritten label and gingham-patterned lid make you feel like you're shopping from a local producer. The name even means "granny" in French! Bonne Maman jams are made using the most simple of ingredients and come in tasty flavors like strawberry and fig. This has been my go-to jam for years!
4. Mariage Frères
Paris has a long and storied tea room culture, and Mariage Frères is the most iconic French tea brand, founded in 1854. With exotic flavors and international scents, this storied French tea is always worth a trip for when in France.
5. Fauchon
Auguste Fauchon, the founder of Fauchon, a French gourmet food company, came from humble beginnings as a street food vendor in Paris before launching his fine foods shop at Place de la Madeleine in 1886. Word spread over time about the high-quality products for sale, and the brand eventually came to symbolize French gourmet food. So much so, that in 1968, Parisian radicals raided the store and distributed foie gras to the poor.
Alcohol & Spirits
France is known for its wine and champagne, but I'd say that champagne is really what became iconic around the world. Wine has mainly been left to smaller producers, but certain French champagnes have been branded to international success.
Fun fact: While we Americans use the word "champagne" for any white sparkling wine, in France, you can only call it champagne if it comes from the Champagne region in eastern France!
6. Veuve Clicquot
Veuve Clicquot is an iconic French champagne maker is based in Reims, in the Champagne region of France. It was founded in 1772 and was always such a special treat for me to drink when I was living in New York. I remember receiving a bottle from my parents for my 21st birthday and found it so delicious!
7. Moët & Chandon
The French fine winery Moët & Chandon has origins in Épernay, France that date back to 1743! Today it's well known as a partner of the LVMH conglomerate.
8. Dom Pérignon
This ultra-luxury vintage champagne is well known amongst collectors as one of the best. Mentioned countless times in American pop songs, Dom Pérignon is one iconic French champagne!
Home Goods
From cooking to decor, there are a few iconic French home goods brands to know if you love decorating your house the French way!
9. Le Creuset
Le Creuset, the beloved French cookware brand sells premium cast-iron French oven cookers, notably in many different color varieties.
10. Diptyque
From candles to perfumes, Diptyque is one of the coolest French home brands to own and make your home a little bit more French. The Baies candle is an all-time favorite.
11. Lacanche
If you follow kitchen renovations and kitchen design, you've undoubtedly come across these sleek French ranges, made by Lacanche. These ovens don't come cheap, but they are one of the best workhorses you can buy. Lacanche ranges have been custom-made in France since the 18th century, and they are shipped across the globe every year.
Travel & Hotels
These French travel brands and French hotel brands have cemented France as a destination for luxury travel.
12. Air France
The national French airline Air France is my favorite way to travel across the Atlantic. As a partner of Delta, there's a good chance you've flown Air France, too! I always enjoy the French products they serve on board like Camembert cheese and red wine. This is certainly the most iconic French travel brand.
13. The Ritz
When it comes to luxury French hotels, nothing compares to the Ritz. Despite being founded by a Swissman, the Ritz has become synonymous with the golden age of Paris, earning it iconic hotel status.
14. Delsey
When I needed a new suitcase, everyone recommended I turn to Delsey, the second-largest suitcase manufacturer in the world. Delsey has become an iconic French travel brand by creating durable suitcases for far-flung travels by train, plane, or car.
Beauty & Perfume
This comes as no surprise, but the amount of successful French beauty brands is truly astonishing! From makeup to perfumes, these are the French beauty brands that have reached icon status.
15. L'Oréal
As the world's largest cosmetics company, there isn't an area of beauty that L'Oréal doesn't address. It began with Eugène Paul Louis Schueller, who developed a safe hair dye formula that was sold to Parisian hairdressers in 1919. Since then, the company has successfully branched out into all sectors and distribution channels, thanks to its innovative research and development centers.
16. Lancôme
Two French men founded Lancôme in 1935 with the launch of five fragrances. The name was chosen by Elisabeth d'Ornano, the wife of one of the founders, and was inspired by the Lancosme forest in the La Brenne region of France.
Soon after, Nutrix, an all-purpose repair cream was launched by the company, followed by many more makeup and skincare products. La Vie Est Belle is the company's best-selling perfume, and Hypnôse has become a cult mascara product.
17. Sephora
Founded by Dominique Mandonnaud in 1970, international French beauty retailer Sephora carries over 3,000 brands and is arguably the largest beauty retailer in the world (perhaps second to Ulta). It has gained consumers' trust thanks to its knowledgeable sales staff and generous return policy that permits used products to be returned for up to 60 days. I have memories going back to my childhood of shopping for my first ever beauty products at Sephora so this one is certainly iconic for me.
18. L'Occitane en Provence
Few regions in France are as glamorous as the southern Mediterranean region of Provence. Olivier Baussan, a native of the region, capitalized on the reputation of the region by producing French soaps, hand creams, shower oils, and skincare products using essential oils and traditional techniques. The L'Occitane en Provence brand has become internationally renowned.
19. Caudalie
Founded in 1995 by Mathilde Thomas, Caudalie has earned its reputation as the best contemporary clean French beauty brand. Caudalie specializes in vinotherapie, a process that harnesses extracts from grapes to create skincare products. The brand's Vinoperfect dark spot serum is a worldwide bestseller.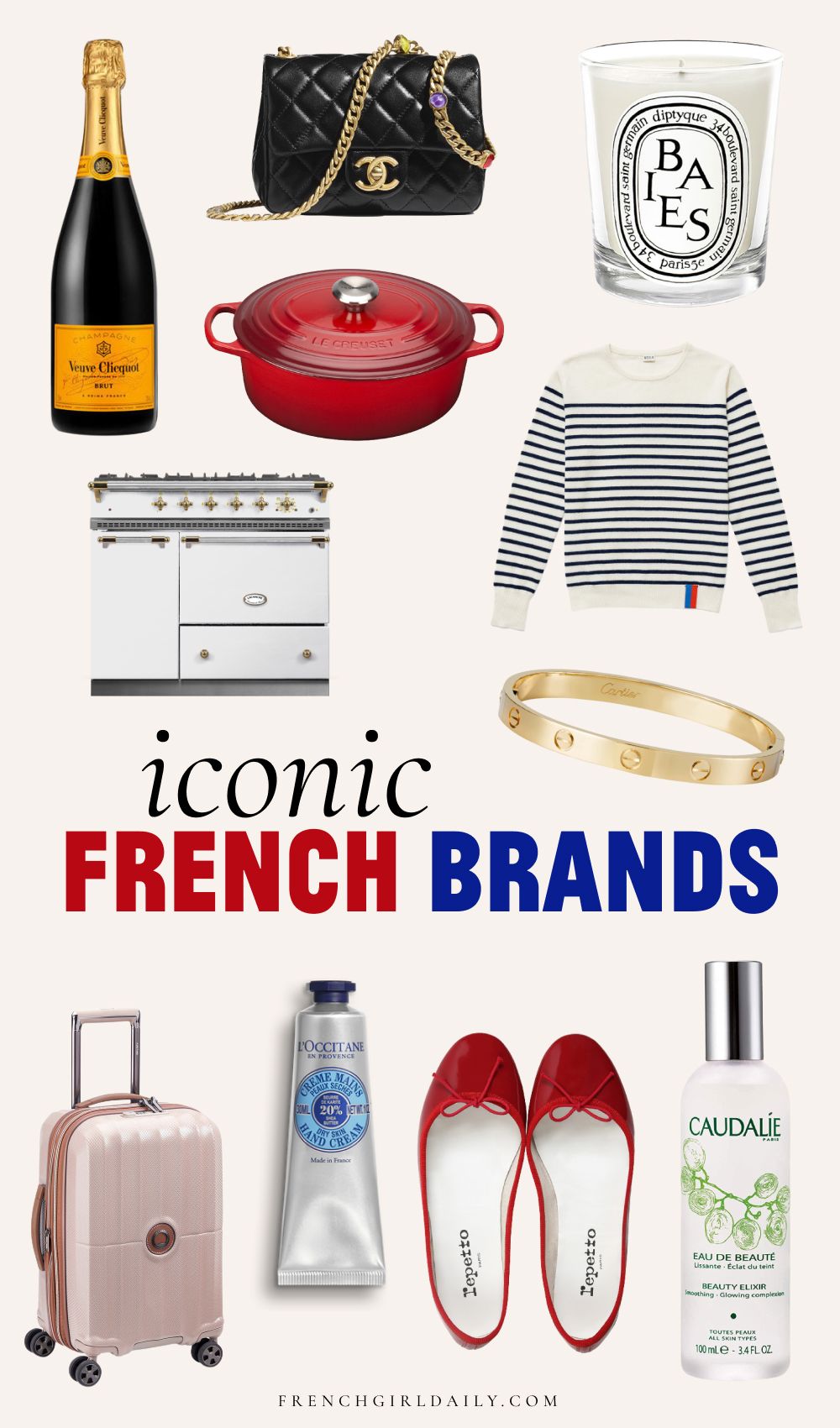 Fashion & Style
I think it's a shame that the luxury brands get all the attention in the States because there are a few less expensive gems that I wish more people knew about. Then again, I guess reaching "icon" status does take some luxury prestige! In any case, these are the best French fashion brands you must know about if you want everyday French girl style.
20. Saint James
Saint James is an iconic French marinière brand for those in the know about French fashion. The classic blue and white striped Breton shirts have been made in France since 1889. You can read more about the iconic la marinière shirts on the blog.
21. A.P.C.
Sometime in the late 80s and early 90s, a minimalist shift in design happened in France, led by A.P.C. in 1987. Rejecting the extravagant and intricate design that French haute couture was known for, founder Jean Touitou created one of the first successful French fashion lines known for its practical simplicity. Today, A.P.C. is highly sought after in the European, American, and Asian markets. It has become a symbol of the new contemporary France.
22. Sézane
Sézane is definitely one of the newer brands on this list, but I believe this brand has rightfully earned its place as an iconic French fashion brand. Many Americans consider it the go-to French fashion shop when they are looking for new clothes. Time will tell if it truly becomes iconic in the long term!
Luxury Clothing
I couldn't make this iconic French brands list without sharing the French luxury goods brands we all know and love so well. Here are the most iconic luxury French fashion houses that are renowned across the world! Again, this is a fairly limited selection of luxury brands that I feel have made it to iconic, household name status.
23. Chanel
Chanel is without a doubt the most iconic French high fashion brand of all time – and perhaps even the most iconic fashion designer in the world. Since founding her womenswear business in 1910, Gabrielle "Coco" Chanel has transformed the way women dress throughout the decades. Often imitated but never duplicated, Chanel has given us countless iconic pieces like the 2.55 bag, cap-toe shoes, and the boxy tweed suit.
24. Christian Dior
Christian Dior established his eponymous fashion house in 1946, with a sharp return to traditional female dressing – the "New Look" as it was called, cinched women's waists and exaggerated their hips, creating an ultra-feminine silhouette. Yves Saint Laurent famously became Dior's assistant in 1955, and it's clear that the Dior brand has had far-reaching influence throughout the times.
Shoes & Accessories
These are the French shoe brands and accessory labels dreamed about by countless people across the globe! From daring founders to artisan craftsmanship, France has no shortage of brands who have mastered the art of accessory, handbag, and shoe production.
25. Hermès
Hermès for me is really the iconic French luxury accessory brand. It is one of the few brands that has resisted contemporary marketing tactics used by almost every other luxury goods brand in modern times. You won't see any young creative directors appointed here and certainly no tasteless celebrity collaborations from Hermès. I respect the Hermès commitment to traditional craftsmanship and their opposition to joining one of the two powerful French conglomerates LVMH and Kering.
26. Louis Vuitton
Louis Vuitton founded his brand in Paris in 1854, originally by creating a lightweight, stackable trunk that traveled well. Some decades later, in order to fight counterfeits, Vuitton's son introduced the monogram canvas we know today and trademarked the quatrefoils pattern logo. As Vuitton's brand grew, smaller bags were introduced to the market – notably the Speedy bag which Audrey Hepburn requested for everyday use. While Louis Vuitton's brand is a far cry from the exclusive accessory brand it once was, it remains a powerhouse in the French economy.
27. Longchamp
French luxury leather goods brand Longchamp was the ultimate sign of chic where I grew up in Connecticut. The Pliage tote bag was a mainstay in the 2000s and it still is today – a rare achievement. This Parisian leather goods brand has stood the test of time since its founding in 1948.
28. Christian Louboutin
Christian Louboutin is one of the most internationally recognizable French shoe brands. Louboutin has created an unmistakable brand identity through its signature red soles and sky-high stiletto heels.
29. Repetto
Repetto, the iconic French shoe brand made the transition from a ballet shoe company to an everyday footwear company and their beloved Cendrillon flats are worn by Parisians on the daily.
Jewelry
Lastly, there's one iconic luxury French jewelry company that truly symbolizes the ultimate in French fine jewelry and watches. I'm sure you will recognize this one!
30. Cartier
From the Tank watch to the Love bracelet, there are numerous iconic creations worn by celebrities and public figures over the years which have catapulted Cartier to icon status. This timeless French jewelry brand was founded by Louis-François Cartier in Paris in 1847. It gained an international reputation thanks to glamorous clients like Grace Kelly and Jackie Kennedy Onassis. You need at least one Cartier piece in your investment jewelry collection.
---
There are many, many more French brands that are perhaps more well-known within Europe, but I think this list encompasses the brands that have succeeded in creating a name for themselves outside the European space.
It's clear that the celebrity factor also plays a big role in a brand's iconic-ness. For example, Roger Vivier is arguably a more prestigious and storied brand, yet I can't truly call it iconic in comparison with Christian Louboutin who succeeded in creating a worldwide celebrity and status-driven craze around his shoes. That being said, I'd much sooner buy a pair of Vivier shoes before Louboutins!
What do you think about this list of the most iconic French brands? Did I miss any you love? Do you disagree with one?